Anacondas: The Hunt for the Blood Orchid
(2004)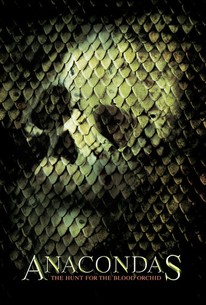 Anacondas: The Hunt for the Blood Orchid Videos
Anacondas: The Hunt for the Blood Orchid Photos
Movie Info
Directed by Dwight H. Little, Anacondas: The Hunt for the Blood Orchid is the sequel to 1997's tongue-in-cheek Anaconda, though none of the original cast have returned. The film chronicles a fateful mission ordered by a pharmaceutical giant: to travel deep in to the jungles of Borneo, where a rare black orchid -- one that can be used to attain immortality -- has bloomed for hundreds of years, unbeknownst to man. The eager horticulturists sent have no idea that an indigenous population of bloodthirsty anacondas has been privy to the orchid's properties for years. Not only have the orchids augmented their already phenomenal size, strength, and vitality, they've substantially increased the snakes' appetites for flesh. Anacondas: The Hunt for the Blood Orchid features Peter Curtis, Johnny Messner, Morris Chestnut, and Eugene Byrd.
Critic Reviews for Anacondas: The Hunt for the Blood Orchid
Audience Reviews for Anacondas: The Hunt for the Blood Orchid
Strangely enough I actually liked this sequel over the first film which was a big surprise as I really expected a complete pile of nonsense and that would look pathetic. So much to my amazement I found myself enjoying the film from start to finish, yes the plot is basic with your typical group of adventurers taken down one by one, but its actually made pretty well on location and it does look real-ish. The effects are about on par with the first film but just that tiny bit better due to advancement with CGI effects obviously. A lot of the snake effects are in the dark or under heavy shadow so its hard to pinpoint if they are actually any good or not but I guess that's how you properly deal with a creature effect and make it effective. As said location work really adds a lot to the film and raises it above your average B-movie schlock. The scenery does look like real deep dark thick jungle and what sets there are look quite authentic, nice boat/river direction too. Casting is reasonable with no big names but all characters are fun to watch. Messner is your gruff unshaven 'Indy' type hero whilst Marsden is great as the cliched British scientist/villain. The rest are your usual mix of stereotypes that we've seen before but always fun to see new creative teams of oddballs. This lesser known cast actually works better than the big name cast from the first film in my opinion as your not overly sure who will survive to the end, it just feels that bit more exciting and fresh. Everything about this sequel is just a slight cut above the first film. Yep believe it or not but its true, pure hokey B-movie fodder that's highly enjoyable and is actually just as good if not better than the original.
Phil Hubbs
Super Reviewer
This sequel to Anaconda looks strained, tiresome and overall it's a boring film that just misses the mark. The film has a poorly written script, a bad cast and poor effects. This is very much like the first film where the filmmakers made a killer creature horror film, but they didn't care how it turned out. This one didn't do it for me and I felt it was quite horrible with nothing really going for it and it just didn't deliver anything fun or memorable. I've seen my fare share of these types of films, and this is one of the worst that I had the misfortune to see. The film is just not fun to watch, while these films are supposed to be, this was just poorly made trash that simply didn't deliver. The Anacondas series is horrible, and with this sequel you can understand why. You get a broader picture as to why these films simply don't deliver anything worth seeing. This is one of those sequels that is worse than the first. The film suffers from a bad script, a poor cast and basically everything that made the first film forgettable. As low-budget horror goes, this one misses the mark. There's nothing memorable about this. This is just a poorly executed horror film with no payoff. If you've seen the first film, then you don't need to see this film, it's all the same in the end with little substance or hint of effective terror, which in turn make these films not worth seeing. Don't expect anything if you decide to watch this film. This is standard low-budget horror that fails to deliver what it tries to do.
½
4 words. Exploding Snake-Ball Orgy
Ken Stachnik
Super Reviewer
Anacondas: The Hunt for the Blood Orchid Quotes
| | |
| --- | --- |
| Dr. Jack Byron: | You guys look like hell. |
| Gail Stern: | You know what hell is... |
| | |
| --- | --- |
| Sam Rogers: | That was either the bravest or the stupidest thing I've ever seen. |
| Bill Johnson: | It's a fine line. |
| | |
| --- | --- |
| Cole Burris: | I might die of a heatstroke, but I'm gonna have a nice, tight ass! |
| | |
| --- | --- |
| Cole Burris: | I'm so hungry, I'd sell my Grandmother for a tic tac! |