Analyze That
(2002)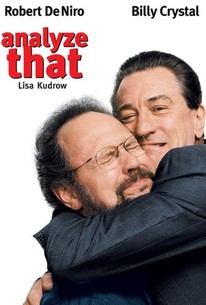 Movie Info
Everyone's favorite neurotic mafia boss (with the possible exception of Tony Soprano) is out of prison and back on the couch in this sequel to the hit comedy Analyze This. Ever since he ended up behind bars, mob leader Paul Vitti (Robert De Niro) has been in sad shape, alternately weeping like a child and singing favorite tunes from West Side Story. Fearful of his emotional stability, prison officials release Vitti into the custody of his psychiatrist, Dr. Ben Sobel (Billy Crystal), but this is far more responsibility than Sobel wants -- he's having troubles with his family after the recent death of his father, also an analyst, and has been overworked since taking over his late father's practice. Sobel becomes even more exasperated when he learns Vitti will be moving into his home, which is especially upsetting for Sobel's wife, Laura (Lisa Kudrow). As Sobel tries to get to the root of Vitti's problems -- which are very much real, even if he was faking his symptoms behind bars -- he tries to help Vitti find a straight job, which is hardly easy for a man of his temperament. And adding to all this confusion, several members of Vitti's old crew are after him, determined to insure that he doesn't pass along any incriminating information. Analyze That also features Cathy Moriarty-Gentile, Joseph Viterelli, and baseball legend Yogi Berra.
News & Interviews for Analyze That
Critic Reviews for Analyze That
Audience Reviews for Analyze That
½
This sequel to Analyze This is, for the most part ,a retread of the first film. Picking up from the last one, mobster Paul Vitti's stay in prison hasn't been an easy one. Afraid of how his mental state will affect him and the other inmates, the prison officials decide that maybe the best thing to do would be to release Vitti into the custody of his psychiatrist Dr. Ben Sobel, who has his own issues to deal with, namely struggling to cope with his father's death, and added pressure to take over his father's own psychiatry business. On top of all this, Vitti tries to 'go straight', but Sobel (and the FBI) suspect that he's really just using that as a cover as he goes back to his old life. I'm not sure if this was really totally necessary, but I wouldn't say it's completely pointless either. They at least try to build on the story, and the scenes of Paul trying to have a regular job are pretty funny, but, by and large, they don't do enough to push things forward, and this ends up being just a rinse and repeat of the first film, only not as funny, clever, or interesting. It does have its moments, but overall I was not really engaged here. Sometimes the performers seem like they're trying, but it mostly just comes off as a cash in, devoid of heart and soul. It is nice seeing Cathy Moriarty and De Niro share the screen once more, although I knew to not expect their pairing here to have the same impact that it did in Raging Bull. See it if you want, but it's honestly okay if you don't.
Chris Weber
Super Reviewer
½
Not so good like the first, Analyze That still bring laughs and a odd, but nice chemistry between the protagonists.
Lucas Martins
Super Reviewer
Sequel to the very funny comedy, Analyze This is an awful failure in terms of delivering more laughs that the first one did so well. This film has a very poor script, and story that doesn't do anything to make you laugh. The first film had plenty of laughs to keep you entertained, but this one relies on the same old, same old to deliver its humor. The result is a misfire that is pointless and is a waste of time to watch. The film's plot lacks any originality and though it has a good cast, the film can't be saved and it becomes one of the worst comedic sequels that I've seen. This film simply wasn't funny and it missed the mark on so many occasions. Also, this sequel proves that some comedies don't need sequels, and they're better as a standalone film. Only one sequel comes to mind when I think of something worse, and that's The Hangover Part 2. Analyze That is not worth your time, if you love the first film, skip this film, it's bad. The problem with this film is that I found it similar in part to the first film, and it doesn't do anything original with its plot. This is a poorly constructed film, one that doesn't payoff and is almost free. Not even a great cast like this could save this tiresome, awful film. Harold Ramis has directed some fine comedies in the past, but with Analyze That, he makes one of his worst directorial outings. The first film was so great, funny, witty and original. This sequel is just uninspired trash that doesn't work and it misses the mark on so many occasions. Not worth your time.
Analyze That Quotes
There are no approved quotes yet for this movie.