And Now A Word From Our Sponsor
(2013)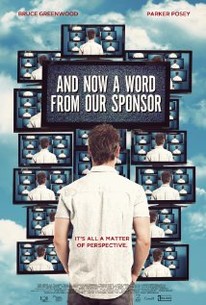 And Now A Word From Our Sponsor Photos
Movie Info
Adan Kundle (Bruce Greenwood), CEO of a major advertising agency, is discovered unconscious in front of a wall of TVs. When he wakes in the hospital, Adan can only communicate through advertising slogans. There he meets Karen Hillridge (Parker Posey), the hospital's Head of Charity Foundation, who has a past history with Adan. Unable to stay in the hospital, and while waiting for long term care placement, Karen reluctantly decides to take Adan into her home for what is to be a few days. Through his ongoing and sometimes inappropriate slogans, Adan slowly begins to affect Karen and the dysfunctional relationship she has with her daughter Meghan (Allie MacDonald). Karen gradually uncovers Adan's background and his antagonistic business relationship with Lucas Foster (Callum Blue), the president of the advertising agency that Adan owns. As Lucas moves closer to taking over the agency by attacking Adan's mental capacity, Adan becomes more involved in helping Karen and Meghan mend their relationship.(c) Gravitas
Critic Reviews for And Now A Word From Our Sponsor
Audience Reviews for And Now A Word From Our Sponsor
½
After having disappeared for a year, advertising guru Adan Kundle(Bruce Greenwood) appears just as suddenly in a hospital where except for the fact that he only speaks in advertising lingo he seems fine. Recognizing him, Karen Hillridge(Parker Posey) takes him home with her. Upon hearing about all of this, Lucas Foster(Callum Blue), Adan's former business partner, starts to worry that he may have to surrender some of his power. "And Now a Word from Our Sponsors" has a superb performance from Bruce Greenwood. And virtually no story or plot. Which is a shame because much could have been commented here about how evil advertising is or at the very least how we tend to speak in cliches in our everyday conversation.
This Canadian comedy about a burnt-out ad man who can only speak in product catch phrases is directed by Zack Bernbaum. Starring Bruce Greenwood and Parker Posey, I was expecting something funny or at least deep... but got nothing out of it. From the beginning to the end it was uninspiring, with few good lines which are not enough to keep audience watching, regardless to their IQ. I love artistic movies with structure, well developed characters in a good screenplay, I don't mind experimenting during directing - but this movie had nothing of all these things. Someone takes your company, your creation and you just answer with stupid ad slogans and shake their hand... well, there were few of annoying scenes like that. The guy is a CEO and cannot answer anything? Very unbelievable. I watched the movie to the end thinking that something will happen and make this film at least watchable. But, never happened! If you are one of those guys who loves to waste time in life, adores movies with no concept and no real ending, while the decisions of the main character drive you crazy - give it a go! For all others: STAY AWAY!
And Now A Word From Our Sponsor Quotes
There are no approved quotes yet for this movie.