And Now Ladies & Gentlemen
(2003)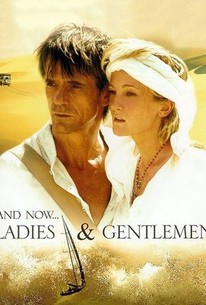 And Now Ladies & Gentlemen Photos
Movie Info
Valentin (also known as And Now...Ladies and Gentleman) is directed by Claude Lelouch and features Jeremy Irons as Valentin, a criminal mastermind whose jewel-stealing business, despite having made him rich, does not offer him much room for personal growth. Hoping to find meaning for his existence, Valentin buys a boat and sets off on a one-man sailing trip around the world, with the police at his heels. At the same time, a burned-out jazz singer named Jane (Patricia Kaas) is in Morocco trying to forget an ill-fated love affair. Valentin, after being struck by a serious illness, makes an emergency landing on the Moroccan coast. Jane soon crosses paths with the suave con artist, and they begin a relationship. Valentin, filmed in France, England, and Morocco, premiered at the Cannes Film Festival in 2002. The supporting cast of Valentin includes Xavier Lecoeur, Romula Walker, and Laura Mayne-Kerbrat.
Critic Reviews for And Now Ladies & Gentlemen
Audience Reviews for And Now Ladies & Gentlemen
The acting by the cast in "and now... ladies and gentlemen" - both by great actors like Jeremy Irons, as well as others, like Patricia Kaas a famous Jazz singer, is beautiful, very deeply felt. I was moved by the expression in these two actor's eyes. But one mustn't consider and rate acting by itself in Lelouch movies,which I was not familiar with, but it is the unity of all skills and feelings that make his work so profound. The acting, directing, photography, music... they make up the story. This movie is filled with illusions, and incredible photographic beauty, specially the ones in Morocco. A must to see. somehow the Morocco inspector reminds me of the TV serie Inspector Colombo, (funny)
Daisy Maduro
Super Reviewer
½
[font=Century Gothic][color=purple]"And Now...Ladies and Gentlemen" is about two people of different professions - Valentin Valentin(Jeremy Irons, who also played Humbert Humbert in "Lolita". What gives?), a jewel thief/master of disguise and Jane Lester(Patricia Kaas), a jazz singer - who are both suffering from the same physical malady - blackouts with an amnesia chaser. [/color][/font] [font=Century Gothic][color=#800080][/color][/font] [font=Century Gothic][color=#800080]It feels like Claude LeLouch is trying to make an old-fashioned romance but cannot really decide fully on the movie he wants to make. Does he want to make a tearjerker or "To Catch a Thief"? And the movie is none too plausible. But the Moroccan scenery is certainly nice. [/color][/font]
And Now Ladies & Gentlemen Quotes
There are no approved quotes yet for this movie.