And Soon the Darkness
(1971)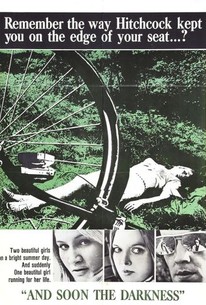 And Soon the Darkness Photos
Movie Info
Former child stars Pamela Franklin and Karen Dotrice are old enough to be frightened out of their wits in And Soon the Darkness. While vacationing in the south of France, Pamela and Karen become the prey of a sex killer. The problem here is that everyone is a stranger to the girls, so whom do they trust? Leading man Sandor Eles sure seems to be a nice guy, but.....And Soon the Darkness was coproduced and written by Brian Clemens, one of the chief engineers of the classic TV series The Avengers.
Critic Reviews for And Soon the Darkness
Audience Reviews for And Soon the Darkness
2.0/10 "And Soon the Darkness" is a dumb, predictable low-budget thriller that doesn't know quite where to go, or how to set itself up for an entertaining ride. I would normally applaud it at least a little bit for doing what it does on such a low budget, but then one has to ask the question: exactly what does it do? Nothing. It does exactly nothing. And that's why I disliked it as much as I did. Granted, I admit that I only watched it because there's an unquestionably bad remake that released not too long ago; and I want to see it even more, having seen this crap-fest. Why do I watch movies that I know I'm going to hate? Maybe it's because I like to criticize. I mean, I'm having a lot of fun right now, as I write a review for a film that insults the audience's intelligence and even more-so our patience. Who would want to go through with watching it? I'm saddened by the fact that I did. Jane and Cathy, who are without-a-doubt young, but apparently nurses too, are both riding their bikes whilst in France. They are both from London; and they are good friends. Jane wants to plan their biking route, but Cathy is ignorant and would rather be chasing a man she saw at a local café. This is sure to lead to difficulties. After more-and-more bike riding, the two stop yet again, but this time, with a twist; they get into a heated verbal exchange, which ends up being an argument, which provokes Jane to leave Cathy lying there; trying ever-so-desperately to get a good tan. Jane isn't a bad person. So this is why she returns to that very spot to apologize and re-unite with Cathy, only to discover that her friend has disappeared. She is in shock; peril. She tries to get help from the locals, the authorities, and whatnot; but nobody is able to help her more than herself. She is told that the place she is in is known for a nasty reputation, and it's implied that her friend may have fallen victim to whatever misfortune has before plagued the area in the past. Potential villains are around every corner. There's the motorcycle-rider who dons glasses, the creepy police-man, and the big deaf guy who is equally as creepy as the police-man. I'm sorry, but whether these are good movie villains to you is not of my concern. All I really care about is the fact that every character is grossly underwritten, and the "big reveal" at the film's end is oh so very stupid. The film is boring, boring, boring; and that's how it intends to stay throughout. It takes its precious little time with everything it does, which would be admirable, if the film hadn't been so bad. I realize that this is the work of an amateur who probably didn't study enough classics to have some decent influence for his own film, but please; savor us to many yawns. I like suspense that makes you wait. I loved "Psycho", and I like anything from Alfred Hitchcock. He is a man who knows how to make movies like these good; while director Robert Fuest is a guy who seems to possess the ability to make them, well, bad. I hated this movie. I hated how it thought it was a thriller, I hated how it kept insulting the viewer with stupidity, and I hated how it thought its characters were as dumb as its target audience. I have a whole list of things that I hated, but I must restrain myself; for this is a review, not a rant. Let this be a lesson to all of us that some films aren't well-known or acclaimed for a reason. I hope that me reviewing this film does not stir up any interest amongst fans of film, or even the "thriller" genre itself, because this is a movie that does not deserve attention. You know what it deserves? To be forgotten. Yeah, that sounds about right.
Ryan Marshall
Super Reviewer
This is a very simple story with minimal character development BUT it is a good atmospheric british thriller that keep you guessing to the very end.
½
I remember seeing this on late night television years ago, and had very fond memories of it. Recently i caught up with it on dvd, and found that my memory had not let me down. Every aspect of this film demonstrates film making talent of the very highest order. The script is superb, keeping you guessing right up to the end. The acting of the leads is faultless, but the icing on the cake is the amazing direction by Fuest. He manages to turn the open, sunny, French countryside into a nightmare landscape. Gradually cranking up the tension, alienation, and paranoia with the skill of a master. He really should have been a massively successful director. Pure craftsmanship, with a very creepy edge.
Cassandra Maples
Super Reviewer
And Soon the Darkness Quotes
There are no approved quotes yet for this movie.