The Anderson Tapes
(1971)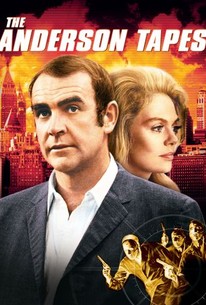 The Anderson Tapes Photos
Movie Info
This breathlessly paced high-tech thriller stars Sean Connery as Anderson, a career criminal who's just been released from his latest prison term. Seeking a quick financial turnover, Anderson uses mob funding to finance an ambitious robbery. With a gang of expert thieves, Anderson sets about to rob every wealthy tenant of a fancy East Side apartment building. What he doesn't know is that every move he makes is being monitored and taped by several law-enforcement agencies, who hope that Anderson will lead them to the Mob kingpins. Though the film may look like a "comment" on the Watergate break-in, The Anderson Tapes actually preceded that third-rate burglary by nearly two years. The Anderson Tapes boasts an impressive supporting cast, many of whom play wildly against type, including Alan King as an aging and infirm Mafia don.
News & Interviews for The Anderson Tapes
Critic Reviews for The Anderson Tapes
Audience Reviews for The Anderson Tapes
½
I just saw it b/c Tarantino put it on the March schedule at the New Beverly Theatre. I respected Lumet but I would never have expected he could have done this one, particularly not as early as 1971. It's very slick but from beginning to end has the spirit of the American New Wave that was coming. Maybe Lumet could see this direction for a studio vehicle after M*A*S*H, but he went all the way. The editing and cinematography show total confidence, in taking in so much of the surroundings -- with whatever invasive-looking cameras and monitors are on the walls -- at high speeds and getting across truthfully so many ephemeral moments of people relating to each other. Garret Morris suddenly appears as a policeman, and you actually see that at this point a new important role in the movie is for this guy to BE a policeman, that for a while what's happening with him and his sparse lines is literally as important as what's happening with Connery. My only disappointment with this movie was that it wasn't longer. I wanted to see how the characters would handle different situations between them, before the heist even began. Because once the heist begins, Lumet and Frank Pierson make each character we've come to believe in fade into the machinery they've chosen to be a part of. It's both the culminating bravery of the movie and the tragedy in it. Characterization is honored but ultimately subsumed by the filmmaking, which soon differs from the graceless destructiveness of monitors and camera only by the filmmakers' artistry and candor. This doesn't leave the viewer with a hollow feeling, but a hollowing one.
Adam Mahler
Super Reviewer
½
Love the structure, hated the music. Solid performance by Connery and the first performance by Walken make Anderson Tapes worth a watch.
Ken Stachnik
Super Reviewer
½
Sean Connery plays a jail bird who's let out and decides to pull another heist with the help of a team of experienced crooks; little does he know the cops are monitoring everything. What's so unique about this film by Sidney Lumet, in superb form as director, is that heist films rarely mount the tension by showing us the cops' side -- here it's like a ticking time bomb, we're just waiting for Connery and his crew to be arrested and we know that they don't know that the cops know (err...) and the result is pretty tense. No fault found in the acting: Connery and a very young Christopher Walken (in his film debut) are great, particularly Walken who shows extensive range very early on. After seeing this I was reminded of his recent role in the "Stepford Wives" remake and had to wonder why he's resorting to such trash, because he's just as talented (almost, anyway) as De Niro and Pacino and the difference is he wasted a lot of this during the '80s and '90s by taking on small bits in horrible films. I mean, in 2003 he starred in KANGAROO JACK. C'mon! Overall THE ANDERSON TAPES is a tense and unique crime thriller that, although very "70s-ish" is entertaining, if a bit outdated in terms of technology. I'm sure it will be remade some day, there's a lot of potential, however I doubt it'll ever come close to the original.
Cassandra Maples
Super Reviewer
The Anderson Tapes Quotes
| | |
| --- | --- |
| The Kid: | "America, man, you know it's so beautiful I wanna eat it!" |
| The Kid: | America, man, you know it's so beautiful I wanna eat it! |