Andre
(1994)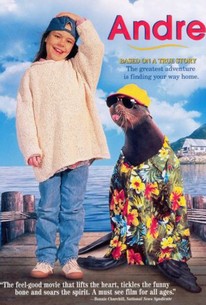 Movie Info
In this family drama, a family of animal lovers living in Maine befriend a lovable seal. When harbor master Harry Whitney rescues a sick seal, his daughter Toni nurses him back to health. Named Andre, the seal turns out to be a real handful when he constantly gets into trouble.
Audience Reviews for Andre
½
I never understood why a girl would want a seal for a pet when I saw this movie as a kid, and I still don't know. Anyway, I hated this movie.
Tim Salmons
Super Reviewer
8 of 9 people found the following review helpful: A great movie for kids who like seals, September 28, 2001 I remember watching this movie back when it first premiered on television, and now, years later, I watched it again. I enjoyed it both times. A family decides to take in a seal as a pet once they find it on the verge of death. Two people in the family, the father and the youngest kid, get attached to the seal, but they both know that the seal, named Andre, cannot stay there forever. "Andre" is one of the best family movies that I've seen in awhile. Andre is a smart seal that can be both entertaining and hilarious at the same time. I'm not a kid anymore, but I can see where "Andre" is best suited for kids. A little girl is the one that mainly takes care of and hangs around Andre, so when kids watch it, they'll probably be imagining themselves raising a seal. As a matter of fact, you shouldn't be surprised if they ask for a seal or if they want to go to the zoo right after they watch this movie. If you have any kids that like seals, or if you just need a great family movie that you can sit down and watch over and over with your kids, niece, nephew, etc., I recommend getting "Andre." NOTE: That was my Amazon review from the year 2001.
Jason Owens
Super Reviewer
Andre Quotes
There are no approved quotes yet for this movie.