Andy Warhol's Frankenstein
(1974)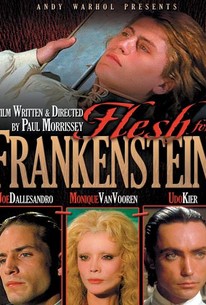 Andy Warhol's Frankenstein Photos
Movie Info
Director Paul Morrissey's gory send-up of the horror classic. A.k.a. "Andy Warhol's Frankenstein." Udo Kier. Nicholas: Joe Dallesandro. Katrin: Monique Van Vooren.
Critic Reviews for Andy Warhol's Frankenstein
Audience Reviews for Andy Warhol's Frankenstein
One of the best midnight movies, I would have loved to see this in theater back in the day in 3D. Udo Kier is brilliantly creepy and hilarious.
Graham Jones
Super Reviewer
One of the worst Frankenstein movies I've seen. Warhol's vampire movie is much better. Still, it's not that horrible, it's okay.
½
This is the heartwarming tale of an incestuous necrophiliac doctor (Udo Kier)who is building a pair of humans to procreate a whole race of...well, I'm not really sure what or for what purpose. Some of the most bizarre scenes you will ever see. Oh my...where to begin? The part where the good doctor is married to his sex maniac sister (Monique Van Vooren)? Or the part where they have two children that come across as more sinister versions of Wednesday and Pugsley Addams? Or the part where the doctor gets it on with his female creation, first by putting his hand in her gut and massaging her entrails while his eyes roll back in his head and he moans in ecstasy, then having "conventional" intercourse with her dead body, while berating his servant as a filthy pervert for wanting to watch? Or maybe when the servant has his own way with the female creation by licking her freshly-sewn abdominal scar? Or maybe the scene where the good doctor's wife/sister noisily sucks the armpit of houseservant Joe Dallesandro during a sexual encounter, while the children spy on them through the window? After a view of Joe's nude form, I can't say that his armpit would be the first part I would be attracted to. To each her own, I guess. I think my favorite part is when the doctor (not actually ever referred to as Frankenstein, but only "Baron") describes his plans for his male and female creations to reproduce while music box-style tinkley music plays softly in the background. I could also go into the terrible acting or the complete lack of believable scenery or the laughable gore effects. Or maybe while everybody else has thick German accents, Joe has his normal New York accent, even though he's supposed to have lived with these people all his life. But I shouldn't be giving EVERYTHING away, should I? I'm tempted to give this more stars just because it's so damn bizarre that it almost is worth seeing...but not quite. My only regret is that I never got to see it in its original 3-D format.
Andy Warhol's Frankenstein Quotes
There are no approved quotes yet for this movie.