Angel Face
(1952)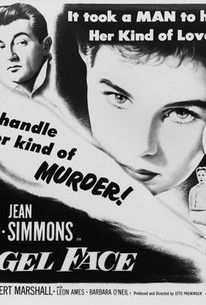 Movie Info
Jean Simmons' fascinating interpretation of an uncharacteristic role is the main drawing card of Otto Preminger's Angel Face. The daughter of Charles Treymayne (Herbert Marshall), who remarried a wealthy woman (Barbara O'Neil), Diane Treymayne's (Simmons) angelic countenance masks an unbridled psychotic who'll let nothing stand in the way of her happiness. Diane arranges for Catherine's death, making it look like an auto accident. Coveting family chauffeur Frank Jessup (Robert Mitchum), Diane steals Frank away from his sweetheart Mary (Mona Freeman) and forces him to become her spiritual accomplice in her stepmother's murder. And when Diane finally realizes that she'll never, ever, be able to hold Frank, she... well, enough said. If Angel Face doesn't look like a typical early-1950s RKO Radio film, it may be because its director was borrowed from 20th Century-Fox, and its cinematographer (Harry Stradling) was a loan-out from Sam Goldwyn.
Critic Reviews for Angel Face
Audience Reviews for Angel Face
An ordinary man gets mixed up with a dangerous girl. Not anything new, but it's a good movie with good actors.
Robert Mitchum plays Frank, an ambulance driver with dreams of opening a sports car repair shop. He has a very pretty girlfriend (Mona Freeman) that he treats very casually, especially when he meets other hot dames. One night, on a call at a ritzy mansion, he discovers what is obviously a plot by a wealthy socialite to kill her stepmother. However, he's a little bit intrigued by the socialite (Jean Simmons), and she seems more than a little interested in her, so he takes her out. Soon, Frank's life is filled with promises of money and it seems as though his dreams will all come true, if only he can turn the other way for a little while. Director Otto Preminger uses the Hays code to his advantage as the twists and turns of this crime drama unfold. While Mitchum isn't exactly oozing charisma (and Simmons' socialite perhaps oozes too much), the end result is something entirely fascinating to watch. Is Mona Freeman's no-nonsense character a proto-feminist? She sees Simmons' little plots and ploys very early on, and has the nerve to call her out on them. I also think the courtroom scenes deserve a lot credit. I enjoyed the interplay between the two lawyers, and Leon Ames breaks ground he'd later revisit in The Postman Always Rings Twice (as an exceedingly clever lawyer). A great example of the genre from the 1950s.
Devon Bott
Super Reviewer
Oh, I dug this. Preminger delivers solid Beverly Hills noir with a dollop of Freudian melodrama. Mitchum is great as a super cynical "I'm wise to you" pragmatist who still winds up taking the fall for the nutty dame. Nutty dames...
Bob Stinson
Super Reviewer
Angel Face Quotes
There are no approved quotes yet for this movie.