Angels and Insects
(1995)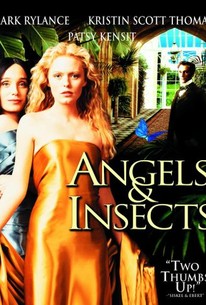 Movie Info
The chaotic lives of an aristocratic mid-19th century British family are subtly contrasted with the well-ordered lives of insects to exemplify the Darwinian aspects of the British class system in this unusual drama. The esteemed Reverend Alabaster, an elderly intellectual, is having a spiritual crisis after reading Darwin's recently published theories on evolution and natural selection. Alabaster is an insect collector and amateur naturalist, and has given shelter to the homeless and impoverished collector, William, after the young man lost his invaluable Amazon collection in a shipwreck. William is in love with the reverend's eccentric daughter Eugenia, who pays him no mind until her fiance mysteriously kills himself. William then proposes, and she accepts. Later William and the brainy Matty Crompton, a relative of the Alabasters, begin secretly collaborating on a scientific project involving ant behavior. Meanwhile, Eugenia begins bearing William's children. Eventually the reason for the late fiance's demise is revealed and William discovers that there are better things in life than being an aristocrat.
Critic Reviews for Angels and Insects
Audience Reviews for Angels and Insects
Beautiful scenery of the English countryside, a captivating young woman with a dark secret, an innocent young man captivated by the trappings of wealth and "proper" society all come together in this terrific film. The plot is amply described here and elsewhere, so I won't bore you with the details. Patsy Kensit is radiant as the beautiful, cosseted elder sister Eugenia, who harbors a secret addiction that nearly destroys the man who at one time worshiped her great beauty and thought himself unworthy of her affections. Kristen Scott Thomas quietly simmered as the intelligent, artistically talented children's tutor, Matty, who is mainly unnoticed within the household, but whose finely honed powers of observation serve her well. Mark Rylance turned in a carefully nuanced performance as the young biologist, William Adamson, who finds himself the beneficiary of the Alabaster family's largess and blissfully marries Eugenia, only to discover the deception that has been played out under his nose. And Douglas Henshall is perfect as a loutish brute, Eugenia's brother, Edgar. Edgar fancies himself as the pinnacle of human breeding and is quite concerned with maintaining the purity of the bloodlines of his horses and of his family. He is also a man ruled by his passions who satisfies his desires whenever and wherever it pleases him and has nothing but contempt for his ill-bred brother-in-law. The characters are fully fleshed by the script, the passion on screen is palpable, and the conflicts within the household simmer and bubble just below the surface. In that way, it is much like an ant colony, the study of which forms the focal point of the story and becomes the way out for young William and for Matty as well. Matty at one point refers to the members of the household who are invisible to the main inhabitants but nonetheless wield enormous power because of their anonymity. The house decides what is revealed and what is to remain hidden.
Mark Abell
Super Reviewer
Not a movie I would recommend, but if you have nothing to do on a saturday evening and it's on TV.. Why not? (The dresses are hideous).
Ha ha! Those who are looking for a pure period piece are in for a big shock when the sexy parts come into play. I asked a woman out to see this and she looked at me in a weird way. I must have come across as being a perv to her. Anyways, I did see the film later and thought it was brilliant. Not a good first date film but brilliant.
John Ballantine
Super Reviewer
Angels and Insects Quotes
There are no approved quotes yet for this movie.