Angels with Dirty Faces
(1938)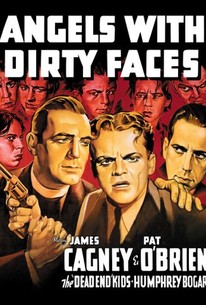 Angels with Dirty Faces Photos
Movie Info
Close pals Rocky (Frankie Burke) and Jerry (William Tracey) flee after a robbery; Jerry gets away, but Rocky is sent to reform school. Years later, Jerry (now Pat O'Brien) has become a priest, and is working with a group of near-delinquents in his and Rocky's old neighborhood. Rocky had become a professional criminal, taking the rap for his whole gang at the urging of crooked lawyer Frazier (Humphrey Bogart) in exchange for $100,000 upon his release. Now Rocky is out of prison, but is stalled by Frazier. He meets Jerry again; when he learns the youngsters Jerry is working with admire him, he tries to get them interested in the activities that Jerry has set up for them. He also becomes romantically attracted to Laury Ferguson (Ann Sheridan), whom he'd also known when a boy, and who is now a social worker assisting Jerry. Even though Rocky knows Frazier plans to kill him, he accepts the $100,000 payoff from the crooked lawyer, and tries to give $10,000 of it to Jerry for his youth program. Jerry, however, knows the money has come from the blackmail of corrupt politicians, and so begins a campaign to reform city government. This leads Frazier and his accomplice (George Bancroft) to plan to kill Jerry. The furious Rocky kills them instead; he's arrested for the crime and sentenced to die. Jerry, knowing the boys still idolize Rocky, visits his old friend in prison and urges him to "die yellow" to help convince the boys that criminals aren't to be admired. Rocky refuses, but as he's led to the chair, he breaks down and begs for his life. Back in the neighborhood, the boys are deeply disappointed, but Jerry asks them to help him pray for "a boy who couldn't run as fast as I could."
Critic Reviews for Angels with Dirty Faces
Audience Reviews for Angels with Dirty Faces
EightThirty .
Super Reviewer
½
William "Rocky" Sullivan is just a no good kid. Starting off as your average juvenile delinquent, he blossoms into a career criminal. His draw is quick and his name has adorned many a penitentiary charts. His childhood cohort Jerry on the other hand, grows out of his old ways and turns to a life of piety. After his most recent stint in the big house, Rocky has come back to his old haunt. Father Jerry and Rocky share a rich history, but their future appears to be heading in different directions. Rocky is still interested in making some dough, while Jerry is focused on turning around a new generation of delinquents. With this story, director Michael Curtiz touches on some serious issues. In a way, Rocky & Father Jerry represent patriarchs of two divergent paths. Both sure know the one that yields more material gain. But as lucrative as it may be, Father Jerry doesn't want the world building their fortunes on rotten foundations. Maybe I am assigning to much meaning to an old gangster picture, but I really feel like there is a good nature vs. nurture argument here. Is there an honorable James Sullivan deep inside? Or was he always destined to be Rocky? Do these kids have it in them to be stand up citizens? Or is it in their blood to be social pariahs? After all, this would have been a hot topic in America during this period in history. Juvenile delinquency was on the rise during the 1930's, disrupting a relatively stable American youth culture. This being the depression years, upward mobility wasn't always within reach. But with a life of crime, many felt that the sky was the limit. Criminals were often glorified for taking their piece of the American dream when it was scarcely available. Curtiz deconstructs these criminals in a very fascinating way. If these aren't good enough reasons to capture your interests, the bold & somewhat ambiguous ending will surely keep you thinking long after the credits roll.
This is my one of my favourite gangster movies. It's not the only movie with the story of two boyhood friends who grow up to be enemies, but it's the best of them. Plus, it has a great cast.
Angels with Dirty Faces Quotes
| | |
| --- | --- |
| Rocky Sullivan: | Good afternoon, gentlemen. Nice day for murder. |
| | |
| --- | --- |
| Rocky Sullivan: | Like sittin' in a barber chair. They're gonna ask me, "Got anything to say?" and I say, "Sure. Give me a haircut, a shave and a massage. One of those nice, new electric massages. Heh heh." |
| | |
| --- | --- |
| Rev. Jerry Connolly: | Alright, fellas. Let's go and say a prayer for a boy who couldn't run as fast as I could. |
| | |
| --- | --- |
| Rocky Sullivan: | "What did you hear? What do you say?" |
| Rocky Sullivan: | What did you hear? What do you say? |