Angus
(1995)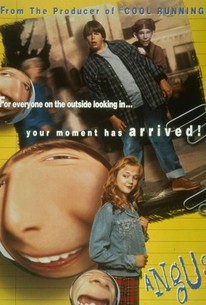 Movie Info
High schooler Angus (Charlie Talbert), a jumbo-sized lad, seems underappreciated in all aspects of his life: he is a standout offensive lineman on the football team, but golden-boy quarterback Rick (James Van der Beek) gets all the accolades for his blood, sweat, and pass-blocking; he is also an outstanding student, but his classmates still regard him as a dork; the girl of his dreams (Arian Richards), Rick's girlfriend, seems to ignore him. Only when Angus musters the courage to put on a maroon tuxedo and head off to the school dance at the urging of his loving, free-spirit mom (Kathy Bates) does he finally get the recognition he deserves (as does Rick, who attempts to publicly humiliate Angus with a cruel prank). While the story is familiar, director Patric Johnson and the entire cast infuse the film with real warmth, making Angus a winner (as does its refreshing attitude toward violence).
Audience Reviews for Angus
Summary: A fat, socially awkward, good-at-science kid and his story of getting the girl of his dreams to at the very least, notice him. Sounds typical, right? Well this one is good. The Good: The characters, Angus in particular, is actually interesting and someone you can actually care about. I also liked how the pushed the idea that no one is normal, and I love some of the things that Angus says. Very witty. Good soundtrack too. The Bad: It kind of follows the same formula for these type of movies but I feel that this one is different in a way. Ratings: Acting: 9/10 Story: 6/10 Originality: 6/10 Soundtrack: 9/10 Characters: 9/10 Overall: 8/10
Professor Wizenhymer
Super Reviewer
½
I think this movie is really funny. Love the quirkiness of the friendship.
♥˩ƳИИ ƜѲѲƉƧ♥
Super Reviewer
Great childhood favorite.
Angus Quotes
There are no approved quotes yet for this movie.