Animal
(2014)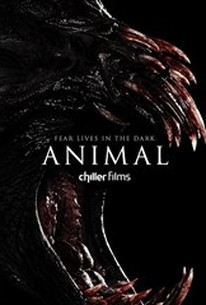 Movie Info
When plans for a weekend vacation hit a dead end, a group of close-knit friends find themselves stranded in unfamiliar territory, pursued by a menacing predator. Holed up in an isolated cabin, tensions mount as long-buried secrets are revealed. As the body count rises, the group must put their differences aside and fight for survival. (C) Official Site
Critic Reviews for Animal
Audience Reviews for Animal
A carbon copy of the monsters from Feast stars in the much less good "Animal". I I'm being honest though, it did actually manage to have me engaged before it was over.
A surprisingly good monster film all things considered. It's not something that I would rave about or tell someone to go out of their way to watch it, but, if it's a TV movie, since this is a Chiller Films production, Chiller being a tv channel that specializes on horror programming, then this is a pretty damn TV movie. Some of their films have seen limited release in theaters before airing on their channel so, at some point, I'm assuming, this aired on their channel. I'm not saying that the standard for TV horror movies has been raised, if there even was such a thing as a quality TV horror movie prior to this one. I'm sure there was, but they've been buried under a mountain of irrelevance. But this movie, with its higher production values and a pretty decent cast of actors and somewhat interesting characters, actually does do a good job at taking this cliched concept of the monster movie in the cabin in the woods, pretty fun. This is something you've seen before and will likely see again, attractive young adults get attacked by monster in the woods. It doesn't set out to reinvent the wheel in any way, shape, or form. This is as unpretentious as a horror movie can get and I definitely mean that as a compliment. It's just a fun horror movie. The characters, while not exactly overflowing with depth, are actually a little more interesting than your typical low-budget horror fare. I don't wanna say that you care whether they live or die because, ultimately, this is a monster movie and making people care about characters is difficult since a lot of them will be killed off gruesomely simply for the sake of gore. So why put in the effort to get you to care since they're simply cannon fodder. But, at the very least, this movie makes somewhat of an effort to give the characters a little personality before killing them off. Of course, the character that you like the least is the one that ends up surviving, so that conclusion was a bit unsatisfying. Not saying this character was unlikable or anything, but this particular person didn't do anything for me. There were other, worthier, characters that could've lived. It honestly doesn't matter in the long run, and this is more of a nitpick than a full-on complaint. It honestly didn't affect my enjoyment of the film in the long run, just a minor issue. The monster itself looked fine, not great or anything. The monster in Storage 24 looked considerably better. The one here just looked cheap sometimes and they knew it too because they didn't really show full shots of the monsters. Just sides of it. Don't really have much else to say about this, in spite of the negative audience reaction to this film, I actually enjoyed this movie. It's not gonna change anyone's views on horror films if they hate the genre, but it's a perfectly agreeable and enjoyable monster film that doesn't take itself too seriously. Solid stuff here.
Jesse Ortega
Super Reviewer
[img]http://images.rottentomatoes.com/images/user/icons/icon13.gif[/img]
Directors Cat
Super Reviewer
Animal Quotes
There are no approved quotes yet for this movie.