Animal Crackers
(1930)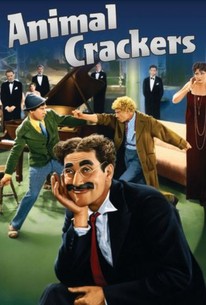 Movie Info
Animal Crackers, like The Cocoanuts before is an all-but-literal translation to film of a smash-hit Marx Brothers Broadway musical. The aristocratic Mrs. Rittenhouse (Margaret Dumont) holds a weekend party at her Long Island Estate. Her guest of honor is famed (but likely fraudulent) African explorer Geoffrey T. Spaulding (Groucho Marx). Also showing up are renegade musician Signor Emmanuel Ravelli (Chico Marx), the mute, girl-chasing "Professor" (Harpo Marx) and Spaulding's faithful secretary Horatio Jamison (Zeppo Marx). The film, revolving around a stolen painting, finds Groucho lecturing on his most recent safari ("One morning I shot an elephant in my pajamas. How he got in my pajamas, I don't know"), Harpo and Chico unabashedly cheating at bridge, Groucho dictating a wildly nonsequitur letter to the firm of Hungerdunger, Hungerdunger, Hungerdunger and McCormick, and Groucho and Chico drawing up plans to build a house.
Critic Reviews for Animal Crackers
Audience Reviews for Animal Crackers
Altho based on their hit stage play, resulting in a stagebound feel to the thing, many scenes with a cast of extras merely standing around in the background, nonetheless still zany. Groucho himself notes that "not all the jokes can be good", but then again, many are. Margaret Dumont does better stuff with her eyes than some actresses do with their whole career. One of my favorites, including the classic " Hello, I Must Be Going".
Kevin M. Williams
Super Reviewer
Very funny and silly, a classic Marx Brothers movie. The only thing I don't like about it is the ending, it's kind of strange. Otherwise, a great movie.
Famous explorer Captain Jeffrey T. Spaulding returns from the dark continent to attend the unveiling of a work of art, but it is stolen from under their noses. Animal Crackers may not be the strongest of the Marx brothers films as it's firmly anchored to the stage, basically set in its entirety in the same room but it still definitely has its moments. The earlier part of the film spends far too much time on the farcical plot and not enough on Groucho who is obviously the star of the show. Some of Chico and Harpo's antics are a little hit and miss, some of the routines outstaying their welcome somewhat (the card game in particular) and even some of Groucho's rants get positively surreal (maybe their context has been lost in the sands of time!) It certainly gets better as it goes on though, the Groucho/Chico gags a stand out and by the last scene I was LOL-ing my heart out. And at least Zeppo doesn't sing in this one...
Animal Crackers Quotes
| | |
| --- | --- |
| Capt. Jeffrey T. Spaulding: | One morning I shot an elephant in my pajamas. How he got in my pajamas, I don't know. |
| | |
| --- | --- |
| Capt. Jeffrey T. Spaulding: | As I say, we tried to remove the tusks. But they were embedded so firmly we couldn't budge them. Of course, in Alabama the Tuscaloosa, but that is entirely ir-elephant to what I was talking about. |
| | |
| --- | --- |
| Capt. Jeffrey T. Spaulding: | I'm sick of these conventional marriages. One woman and one man was good enough for your grandmother, but who wants to marry your grandmother? Nobody, not even your grandfather. |
| | |
| --- | --- |
| Capt. Jeffrey T. Spaulding: | Well, art is art, isn't it? Still, on the other hand, water is water. And east is east and west is west, and if you take cranberries and stew them like applesauce, they taste much more like prunes than rhubarb does. Now, uh... Now you tell me what you know. |