Animals United (Konferenz der Tiere)
(2010)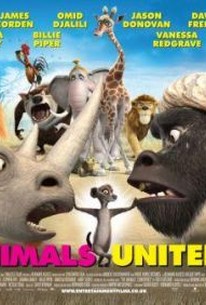 Animals United (Konferenz der Tiere) Photos
Movie Info
When the African savannah runs dry and water becomes a precious commodity, a courageous meerkat and a laid back lion prepare to go the distance in order to avoid dying of thirst. In seasons past, a single mountain canyon provided enough water for all the creatures in the savannah. But this year, not a drop has fallen. Buffalos and rhinos stand guard over the only watering hole for miles, and if the creatures don't act fast, they will surely perish. Desperate, Billy the meerkat and Socrates the lion set out to find sustenance. Upon crossing paths with a rooster named Charles, the pair learns of a place in the Okavango Delta where the water still flows. But by the time Charles leads them there, the humans have already staked their claim on the small reserve. Meanwhile, local entrepreneur Smith has constructed a dam in order to the precious divert water to his luxury hotel. When Billy and Socrates learn that the hotel is hosting a conference on natural preservation, they call in all of their animal friends in order to teach the thoughtless politicians a thing or two about sharing the land. ~ Jason Buchanan, Rovi
Critic Reviews for Animals United (Konferenz der Tiere)
Audience Reviews for Animals United (Konferenz der Tiere)
½
German animation film, with pretty decent graphics but a rather preachy story. It doesn't exactly help that the humor is somewhat infantile and the timing totally off. If this film proves one thing then what a terrific job most US-productions make in expanding their target audience to older kids and even young adults. Children may have fun with this but there is nothing redeeming here for an older audience.
Animals United is a German animated film directed by Reinhard Klooss and Holger Tappe and I have to say that I am not sure if this is just some kind of propaganda movie or something kids can enjoy because the story had elements of both - propaganda films and kids films! Story about a meerkat called Billy (James Cordon) and a lion called Socrates (Stephen Fry) in the African Okavango Delta who go on a quest to discover why their river has unexpectedly dried up seems interesting for younger children, but the director and the screenplay writers expect that those children will know about UN HQ in New York where all animals arrive by the help of humpback whales... farfetched, don't you think? For that amazingly bad story you can blame Oliver Huzly and Reinhard Kloos and the typically bad chicken dance (favourite German party music) soundtrack was composed by David Newman. I know that most young children will enjoy the motley crew of animals searching for a new home after their habitats have been destroyed by fire, oil spills and or other man-made disasters... but even kids would not accept impossible way of all of them meeting together - in a middle of an ocean in a bath tub! Just save yourself few bucks and an hour and half of wasted time!
Animals United (Konferenz der Tiere) Quotes
There are no approved quotes yet for this movie.