Anna Karenina
(1997)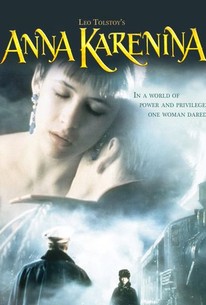 Movie Info
This lavish remake of Tolstoy's classic novel is the first American version to be filmed in Russia. Like its filmic predeccessors, it focuses more on the romantic and tragic aspects of the story and ignores the political undertones of the original.
Critic Reviews for Anna Karenina
Audience Reviews for Anna Karenina
I can't tell you how faithful this opulent version of the classic tragedy is, but it was very highly regarded compared to other film versions according to reviews I read. What I can tell you should come as no surprise - squeezing 600 pages into two hours and change results in much collateral damage to the material. One peerless aspect of the production is the sense of time and place, filmed entirely in Moscow and Saint Petersburg which is where Tolstoy's story unfolds to the stirring swells of Rachmaninoff and Tchaikovsky on the soundtrack. A very interesting choice involves the language. The actors in all the major roles speak English with their native accent, which is the way to go if you can't get the dialog in the original tongue. Nothing sounds phonier than actors speaking English with a Russian accent to try and convey that they are actually speaking Russian. But to add to the sense of immersion, director Bernard Rose hired many Russians for the minor roles and subtitled their speech. The lead actors even say a couple lines in Russian to add to the authenticity. Overall, I found these tactics unusual but very effective. Nevertheless, while I love Sophie Marceau and feel she has the capacity to successfully play Anna speaking her native tongue, something goes missing in her English interpretation. Obviously the producers felt confident in hiring her to star in this extravagantly expensive venture, which is a testament to the international appeal she showed in her role in Braveheart. There are certainly other problems in evidence - I didn't feel much sympathy towards Anna and the Duke Vronsky, never been a sucker for undying love at first sight, and I felt they rather deserved what they got, Anna's extreme fateful decision notwithstanding. Also the story of Alfred Molina's character Levin must have been important to the social commentary of the book, but his scenes seem completely independent to the events in the rest of this movie, and thus his usual quality performance is rendered inconsequential. On the whole this is a version worth watching for the unprecedented authenticity of the production which helps cover the gaps of emotional resonance.
Doctor Strangeblog
Super Reviewer
Anna Karenina Quotes
There are no approved quotes yet for this movie.