Annabelle
(2014)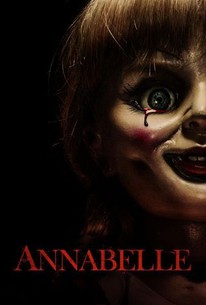 TOMATOMETER
AUDIENCE SCORE
Critic Consensus: Annabelle borrows unabashedly from better horror films, content to leave viewers with a string of cheap jolts that fail to build on the far more effective The Conjuring.
Movie Info
Before The Conjuring, there was ANNABELLE. (C) Warner Bros.
News & Interviews for Annabelle
Critic Reviews for Annabelle
Audience Reviews for Annabelle
½
Although The Conjuring had a great sequel to follow it, the premise itself seemed like lightning in a bottle, but like any successful film these days, spinoffs and sequels are inevitable, due to the fact that studios are just money-hungry conglomerates. When Annabelle was released back in 2014, it only furthered this notion. While I've definitely seen worse horror films, this is a failure of a movie on multiple levels. There were so many interesting aspects about The Conjuring, giving depth in its story and detail in ts characters, but basing an entire film around a doll that appears for only a moment seemed like a waste of time to me, and it definitely was. With age, this film just becomes more and more forgettable, but with the release of Annabelle: Creation coming up, let's revisit the movie that was completely unnecessary. The biggest problem that people will find with this film, is that it truly feels like an excuse to continue the lore of The Conjuring franchise. Not very long, not very complex, and quite frankly not that scary, Annabelle is about as bland as horror films can get these days. A family moves into a new house, has a baby, and begins to get haunted by a demon, who is communicating through the doll. Without any large reveals to keep you interested or a strong enough conclusion leave you somewhat satisfied, this premise does absolutely nothing to earn praise from anyone. The biggest takeaway that I was able to find here, was the fact that the main cast in Annabelle Wallis and Ward Horton seemed to be quite devoted to their respective roles as husband and wife. Quite honestly, this isa film that could've easily placed anyone in these roles, so I found myself appreciating their dedication in pulling the audience into the lives of these everyday characters. Their performances aren't award-worthy or anything of that nature, but by the end of the film, the biggest positive was the cast, at least in my opinion. That being said, the rest of the film just feels like a bleak movie, filled with cop-outs and wasted opportunities. Like most generic horror films, Annabelle is riddled with quite a few false-scares, but it's not like the film earns anything from it by having an awesome finale, because the film really just ends, without having anything remotely exciting happen. Throughout the film, there are many close-ups on sewing machines and dolls, making you think that something is about to jump out and scare you, but then it just cuts to the next scene. As I said, this is never earned throughout the film, because this tactic is consistently used, becoming more annoying than terrifying. I found myself bored throughout the majority of the movie, even when it was trying to be scary. In the end, Annabelle is a film that should've had a completely different team working on it. I felt as though this crew and post-production team should've taken on a strict drama, because that's what I felt like I was watching most of the time. With more engaging direction, a different editing style, and a script that left many more intriguing questions than this final result did, Annabelle just feels like a completely missed opportunity for horror fans or fans of The Conjuring in general. It's an easy watch for those who are easily scared, but that's also a negative, so I can't muster up anything remotely positive about this film, other than there are are very nice shots and the actors seem to be giving it their all. Overall, this is a movie that just shouldn't have been made. Let's see what Annabelle: Creation has to offer.
Because it follows to the letter the conventions of the genre, this is an efficient yet passable horror movie that doesn't come close to being as scary as The Conjuring but offers some good moments here and there (like the elevator scene, which is particularly terrifying).
Carlos Magalhães
Super Reviewer
Okay, it's not the best horror ever made, and The Conjuring was much better, but there were a few scares and that was one scary ass looking doll. I didn't especially like the ending. It seemed convenient, and the lack of care for the friend was more horrifying than the other events (won't say more and spoil it). Also the God and mothers thing was cloying and irritating. But those few gripes aside - not bad.
Nicki Marie
Super Reviewer