Annapolis
(2006)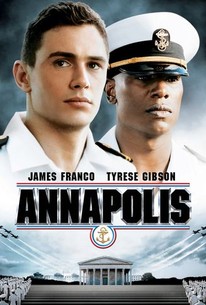 TOMATOMETER
AUDIENCE SCORE
Critic Consensus: Stocked with leading men who look the part but lacking an iota of original plot, Annapolis is merely a watery shadow of superior seafaring military dramas.
Movie Info
A poor but ambitious young man strives to make good in one of the most competitive institutions on Earth in this military drama. Jake Huard (James Franco) is a young man from a small Maryland town who grew up in a blue-collar family with few opportunities. Wanting to make something of himself after completing high school, Jake set his sights on attending the United States Naval Academy in Annapolis, where he narrowly makes the cut and becomes one of the 1,200 applicants selected for the freshman class. Jake finds that life as a "plebe" is intellectually challenging and physically punishing, and he soon develops a powerful adversary in Midshipman Lt. Cole (Tyrese Gibson), his training commander, who pushes Jake to the limit to see if he has what it takes. Standing on the razor's edge of failing as both a student and a soldier, Jake makes a brave but dangerous gesture toward proving himself by entering the Brigade Championships, a Naval boxing competition where he'll go into the ring against the best fighters in the Navy -- including Lt. Cole. Jake soon has one person on his side when he strikes up a friendship with Ali (Jordana Brewster), a pretty young officer who believes Jake has what it takes to go the distance. Annapolis also stars Donnie Wahlberg, Chi McBride, and Vicellous Shannon; the film was directed by Justin Lin, who debuted with the acclaimed independent feature Better Luck Tomorrow.
News & Interviews for Annapolis
Critic Reviews for Annapolis
Audience Reviews for Annapolis
Annapolis is an awful, clichéd mess of a film that fails to entertain. This is the type of film that relies on a poorly thought script, one that simply doesn't work. The characters are generic, and the story is something that we've seen many times before. James Franco has done far better work than this, but Annapolis is one of his worst films. This is a bland affair, one that is just boring, with nothing that's ever interesting that occurs on-screen. The dialogue and performances are laughable, and this is simply put, a film that isn't worth your time. I hated the film, and felt it was a pointless film. This is a prime example of what happens when a film has too many clichés going for it, the end result suffers greatly, and it ends up falling flat. If you're looking for an entertaining film with this one, you'll sadly be disappointed. Annapolis is a forgettable film that scraps the bottom of the barrel. This is one of those films that should have been reworked on before getting green lit. Watch something else; you'll be glad you did. This film just copies every feel good film, and waters down the formula and plays out every cliché in the book. Annapolis is a collection of bad actors and a poor story that ends up being a pointless effort. I don't think that the filmmakers cared to really make a good film with this one. Overall this is a soulless movie, and one we've seen many times before. The only difference is, is that there are better films out tackling the same subject.
½
Even thou he was in several things before Annapolis, I consider this to be James Franco's breakthrough role. Just the training and studying alone, must have been as intense as the film itself. Franco plays Jake Huard, a first year student at the Naval academy. The story takes you inside one the hardest and most secretive schools in America, showing you just what it takes to even make it past your first year. The story itself is very inspirational and the acting is top notch. This isn't just a good film, it's one that you know took a lot out of everyone involved. I was entertained, excited, and inspired by an underdog who just wouldn't give up. This is a tremendous film that fell under the radar, because of a then, unknown cast, but it really is a must see for fans of inspirational, military and sports dramas.
Todd Smith
Super Reviewer
½
James Franco is just lovely. It has a good storyline too.
Annapolis Quotes
| | |
| --- | --- |
| Cole: | What is the latitude of Annapolis? |
| Whitaker: | Who were the first three naval officers to hold the rank as admirals? |
| Cole: | How long have you been in the Navy? |
| Jake Huard: | Sir, the latitude of Annapolis is 38.58 degrees north. Sir, the first three admirals were Dewey, Porter and Farragut. Sir, I've been in the Navy all my bloomin' life, sir. My mother was a mermaid, my father was King Neptune. Every bone in my body is a spar. And when I spits, I spits tar. I's hard. I is, I am, I are. |