The Anniversary
(1968)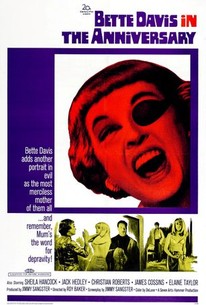 Movie Info
Bette Davis plays a wealthy one-eyed widow (complete with designer eye patch) who gathers her sons together once a year to celebrate the death of the husband she detested. Mama Davis couldn't be more castrating if her last name was Bobbitt: Her grown sons (it's been 10 years since daddy died) are essentially weaklings who seem to secretly covet the emotional stranglehold she has over them. When she can't exert her authority of her sons by normal means, Davis blackmails them with her knowledge of the skeletons in their closets -- and in the case of her eldest son, the women's undies in his dresser drawers.
Critic Reviews for The Anniversary
All Critics (5) | Top Critics (1) | Fresh (4) | Rotten (1)
A horror film for faint-hearted horror movie fans. It has no horror music. Or any serious crimes. It is not scary. In the serious bars of pure terror, it is the ginger ale. The cast seems to have a pleasant time.

The movie's not much, but Bette has a field day with the material.
August 24, 2003 | Rating: 4/5
The rhythm comes from the sharp, snappy dialogue. And Davis snaps with the best of them
January 1, 2000
Audience Reviews for The Anniversary
Bette's in full on camp bitch mode here and having a hell of a good time, if you're in that mood too you'll have a fine time.
A very good friend is gnashing her teeth over my having reviewed 999 movies and not yet making it to 1000.This is for you Lisa! The Anniversary is one of Bette Davis' most campy,viscious roles. The dialogue is razor sharp,clipped and maniacally melodramatic like only Davis could have done. As the matriarch of an affluent family,Bette maintains a death like grip over her three highly emasculated sons,controlling and manipulating them through,blackmail,guilt,deception and dialogue that symbolically castrates them over,and over again. The occassion is a her yearly mandatory "party" wherein she and her broken children "celebrate" her marriage to her late husband. Bette has center stage as she forces her three adult sons and two of their ssignificant others,to go through a highly ritualized series of events,in honor of her late husband. Within tthis "festive" event,her character delights in emotionally torturing all,with tthe coldness and cruelty of a maternal Mengele. She allows for occassional momentary relief for her victims and then, like a cobra,lashes out and destroys any sense of peace and security during the "party"-loving every minute, watching them squirm and assume the fetal position. One might say that Norman Bates mother,was probably a kinder gentler version of this character. Film noire fans MUST see this film,as well as those who mourn the lost art of dialogue in the movies.
Audrey Lush
Super Reviewer
The Anniversary Quotes
| | |
| --- | --- |
| Mrs. Taggart: | I promise you, I'll have your skin for rags, and wipe the faces of your children with them! |