Anonymous
(2011)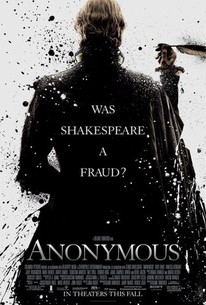 TOMATOMETER
AUDIENCE SCORE
Critic Consensus: Roland Emmerich delivers his trademark visual and emotional bombast, but the more Anonymous stops and tries to convince the audience of its half-baked theory, the less convincing it becomes.
Movie Info
Set in the political snake-pit of Elizabethan England, Anonymous speculates on an issue that has for centuries intrigued academics and brilliant minds such as Mark Twain, Charles Dickens, and Sigmund Freud, namely: who actually created the body of work credited to William Shakespeare? Experts have debated, books have been written, and scholars have devoted their lives to protecting or debunking theories surrounding the authorship of the most renowned works in English literature. Anonymous poses one possible answer, focusing on a time when scandalous political intrigue, illicit romances in the Royal Court, and the schemes of greedy nobles lusting for the power of the throne were brought to light in the most unlikely of places: the London stage. -- (C) Sony Pictures
News & Interviews for Anonymous
Critic Reviews for Anonymous
Audience Reviews for Anonymous
½
Emmerich loses all credibility trying to make us buy his theory at any cost, and even though it has a great production design and an intriguing premise, the movie is poorly directed and has a weak script full of unnecessary soap-opera twists that make the plot even less believable.
Carlos Magalhães
Super Reviewer
Anonymous is a film that straddles the lines between fact, fiction, and speculation while retaining every bit of its poignant drama. Lending to the long debated issue of the Shakespearean authorship, this film speculates on the Oxfordian theory of authorship, giving credit to Edward de Vere, the 17th Earl of Oxford. Weaving true history and dramatic license, the film is often engaging and educational in certain ways while expounding on others in order to keep the audience intrigued. The film was a labor of love from screenwriter John Orloff and director of schlock Roland Emmerich, which took almost twenty years to make. Apparently suspicion over the true authorship of Shakespeare's work rose to prominence in the mid twentieth century after he was named the greatest author of all time. Some eighty supposed authors have been named in finding some better educated and schooled author, compared to the lowly actor that was Shakespeare. Most of the theoretical plot makes sense, as the Earl was a ward of the Queen, wrote plays and poems, and could have easily made the rounds in the theaters, but many facts were distorted, and should have been in order to make this film work. Why de Vere ever gives his plays over to Ben Jonson, and eventually taken by Will Shakespeare, makes little sense as it was because of an oncoming insurrection by Essex and his son. The way de Vere speaks to every character with such insolence and pomp, plying his plays to Shakespeare under the assumption that they will be massively popular, makes him unfeasibly pretentious. The flashbacks to various points of history was intriguing yet bothersome, and usually leaves one feeling unsure of the true set of events. At the very end the truth is changed so much that the subject of incest even arises, a far cry from the truth of the matter, but is the only way to tie up a loathsome plot. The performances themselves were amazing, including from Jamie Campbell Bower as a young de Vere, Vanessa Redgrave and her daughter Joely Richardson as Queen Elizabeth I, and Rhys Ifans as the Earl. It was a film that certainly captivated and wasn't difficult to follow, but it was so obviously false in sections, and libelous when it came to the character of Shakespeare, showing him as a greedy oaf, that you couldn't truly enjoy it. That and the ending being so blatantly devious made the film come off as money hungry and trying too hard, blame which I perch on director Roland Emmerich's shoulders. Interesting, but certainly not the educational view you're expecting.
Spencer S.
Super Reviewer
Whether you believe in the theory posited in Anonymous, or whether facts are ignored or distorted is irrelevant - since this is a fine production that, from the very first frame, tells you the yarn you are about to witness is nothing more than a play based on a theory. Get past whether the theory has merit and you have a ripping good tale, extremely well acted by all concerned that is excellently filmed with a script that, while not necessarily worthy of the Bard of Avon, is intriguing and holds passages of truth and beauty. I really enjoyed how the tale weaves back and forth in time and place, picking up threads from earlier scenes that may be nothing more than portents of what will follow, or things that will give later scenes greater impact. I also enjoyed the injection of selected scenes from the Bard's plays and how they infer what is going on politically at the time. Having seen Henry V at an outdoor theater built to resemble the Globe this past summer, it was a true joy to see the before the battle scene in all its "hooray for England" glory; and then watch the reaction from the "mob" in the audience. Similarly I was also taken with the scenes from Richard III and the explanation that the portrayal of R3 as a hunchback was a direct and intentional jab at the Queen's chancellor. Having seen Sir Ian McKellan in the role also didn't hurt my enjoyment of the scenes. As in even the most serious of the Bard's dramas, there are elements of frivolity, as when the actor Will Shakespeare first read's Romeo and Juliet and then pitches the "but soft, what light by yonder window breaks" bit at a saucy wench and then turns to Ben Johnson and proclaims that he is going to become the premier cocksman in all England. In retrospect, while this tale has enough political intrigue on its own merit, it is the inclusion of the Shakespearian canon that really makes the film sing. Of course if you aren't into the Bard then your reaction may of course be different - and yes, the script does lay on the reverence a bit too heavily, but brilliance is brilliance and I think anyone who values prose can certainly agree that there are wondrous passages of beauty within the Bard's canon. There is a scene when Ben Johnson (who the film reminds us, was the first poet laureate of England) comes to the Earl of Oxford's death bed (said Earl is the true author in this case) and gushes how the Earls words are true masterpieces - similar to the Requiem scene in Amadeus where Solinari sits in awe as Mozart composes the piece totally in his head, without a keyboard present. As I mentioned, all the performances are solid, but special mention should go out to Vanessa Redgrave who gives a stunning performance as Queen Elizabeth, and to Derrick Jacobi as the academian/narrator - using his theatrical training to give each and every word its own sense of space and meaning. Finally, I just have to mention a wondrous bit of writing which occurs about 2/3 of the way through the film. When the Earl's wife confronts him about continuing to write his plays (which, in the protestant faith of his wife, is blasphemy), he explains that he is bewitched by characters who talk to him and it's only by writing of them and what they tell him that he may banish them for a spell. Excuse my clumsy summation of this speech, but it is indeed truly beautiful and strikes a chord within any artist - they don't do what they do because they want to, but because they simply must.
paul sandberg
Super Reviewer
Anonymous Quotes
| | |
| --- | --- |
| Young Earl of Oxford: | One can't love the moon after having seen the sun. |
| | |
| --- | --- |
| Young Queen Elizabeth I: | If plays are indeed such a sin. I pray that I do not find my salvation until very late in life. |
| | |
| --- | --- |
| Queen Elizabeth I: | Are you the gift, my gracious little man? |