Another Gay Movie
(2006)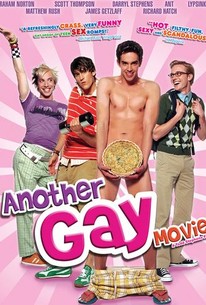 Movie Info
The standard "four horny guys" conceit of the typical teen comedy gets a change-up in this independent sex farce. Jarod (Jonathan Chase), Griff (Mitch Morris), Nico (Jonah Blechman), and Andy (Michael Carbonaro) are four close friends who are soon to graduate from high school, and at the end of the summer they'll go their separate ways as they go away to college. All four of them have something else in common -- they're virgins, and have made a pledge to one another to finally go all the way by Labor Day. Oh, did we mention these guys all happen to be gay? Griff devotes nearly every waking hour to improving his butt, Nico is the stereotypical flaming movie buff, Jarod is a jock worried about the size of his sporting equipment, and Andy has a bad habit of swiping vegetables from his mom's garden for purposes other than making a salad. With the help of their lesbian pal Muffler (Ashlie Atkinson), the guys go on the prowl looking for Mr. Right (or Mr. Right Now), with plenty of sexy, strange, and just plain gross hi-jinks along the way. Another Gay Movie includes cameo appearances from Scott Thompson, Graham Norton, Richard Hatch, and John Epperson (aka Lypsinka).
Critic Reviews for Another Gay Movie
Audience Reviews for Another Gay Movie
½
Pretty funny - very graphic (lots of male nudity). Not for the squeamish.
Erin Collins
Super Reviewer
Ok... Keep leaving your joke in the comment box, I'm sure YOU find them hilarious... As for this movie, it WAS hilarious... at first... but it quickly got old. Its about four gay friends, the summer before college, on a mission to get laid. Along the way they meet their fair share of weird characters and it's pretty much the same as 1000 other coming of age teen comedies, except for the gay part... This movie has some really funny parts, especially the interaction with the lesbians, THAT was classic! Unfortunately, they continue focusing on the one subject, and the jokes just stop being funny after about twenty minutes or so. It's a cool idea, it's a gutsy film to make, and I give praise to everyone brave enough to be a part of it. It probably would have been good if it wasn't so narrow-minded.
Todd Smith
Super Reviewer
½
Cliche, predicatable, nothing new. Just silly horny guys trying to get laid
Sylvester Kuo
Super Reviewer