Another Happy Day
(2011)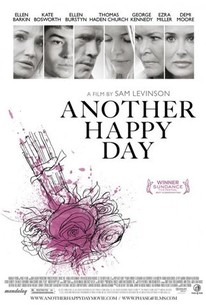 TOMATOMETER
AUDIENCE SCORE
Critic Consensus: Another Happy Day features outstanding performances (Ellen Barkin's especially) but the characters are too unpleasant to endure.
Movie Info
A family weekend is fraught with emotional landmines for mercurial and sensitive Lynn (Barkin) as she arrives at her parents' Annapolis estate for the marriage of her estranged eldest son Dylan (Michael Nardelli), accompanied by her three younger children (Ezra Miller, Kate Bosworth, Daniel Yelsky). Lynn's hopes for a joyful reunion are crushed as her wry but troubled middle son Elliot (Ezra Miller) lobs verbal grenades at his mother and her relatives while daughter Alice (Kate Bosworth), a fights valiantly to keep her longtime demons under control. The weekend quickly unravels as Lynn demands to be heard by her aloof, disdainful mother (Ellen Burstyn), ailing, distant father (George Kennedy) and ever-judgmental sisters (Siobhan Fallon, Diana Scarwid), but most especially by her ex-husband Paul (Thomas Hayden Church) and his hot-tempered second wife Patty (Demi Moore). -- (C) Official Site
News & Interviews for Another Happy Day
Critic Reviews for Another Happy Day
Audience Reviews for Another Happy Day
Definitely NOT another happy movie. This film is very depressing as it shows years of dysfunctional at it's best. Well-written, and well-acted. Ellen Burstyn was absolutely wonderful, as usual. Ezra Miller stole this movie, though. I was mesmerized by his character. In spite of the done before wedding set-up, all the characters, and their relationships, are complex enough to keep you in the story. Nicely done movie, in my opinion..
Cynthia S.
Super Reviewer
Good sometimes great acting can't make this story of family disfunction completely palatable. These are vicious, cold hearted extremely damaged people who it is a trial to spend any time with.
Cast: Ellen Barkin, Ezra Miller, Ellen Burstyn, Demi Moore, Thomas Haden Church, Kate Bosworth, George Kennedy, Jeffrey DeMunn, Siobhan Fallon, Diana Scarwid, Michael Nardelli, Daniel Yelsky, Laura Coover, Eamon O'Rourke Director: Sam Levinson Summary: Upper-crust family dysfunction takes center stage in this drama, which stars Ellen Barkin as a divorcée attending the highbrow wedding of the son she barely knows and trying to hold her own against a family that couches judgment in every smile. My Thoughts: "I often watch these types of films with mest of families. Who doesn't like watching these films and then sitting back and comparing your own twisted little bunch to the made up one on the screen? I usually win with my family being more screwd up, but I have finally found one a bit more messed up then my own. I mean the mother Doris, is a manipulative cold Bitch of a mother. Lynn's siblings resemble Cinderella's wicked step-sister's. Her father is in a bit of a zombie state. Her middle son has major issues, and not just drugs. Her youngest seem's to be the forgottern one. Her only daughter is a self mutilater because of her traumatized childhood. Then there is her oldest son, who seems to be the one who turned out to be the only unflawed one of the bunch. Lynn believes that may be because she didn't raise him. There is also the ex-husbands wife played by Demi Moore, who played Bitch so well I wanted to pull her through the screen a beat her myself. There is a lot happening and more reasons why this family is in a complete mess of emotions. It's a beautiful, dark, sad, and sometimes funny indie drama. I love these movies. Their full of flaws but always a film that will make you feel, sympathize, and care for the characters. That much has to do with the actors. Because it's always an indie flick that brings out a great honest performance from an actor/actress. My opinion of course, but I'm pretty sure my opinion is right lol. Lastly, the performances were absolutely fanstastic. Ellen Barkin blew me away."
♥˩ƳИИ ƜѲѲƉƧ♥
Super Reviewer
Another Happy Day Quotes
| | |
| --- | --- |
| Elliott: | Death is actually a more unifying force within family than love. And that's a mind-blowing concept. |
| | |
| --- | --- |
| Alice: | Oh and just so your prepared. The last time you went to rehab I told them you were in Sweden. |
| | |
| --- | --- |
| Elliot: | Something happened. We thought he was dead! We have it on camera. |