Another Thin Man
(1939)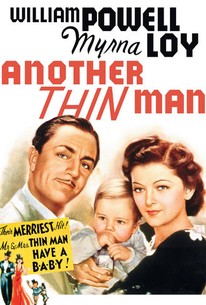 Movie Info
Three years after the second Thin Man entry, MGM brought back the property by popular demand with Another Thin Man. As ever, William Powell and Myrna Loy star as sophisticated sleuths Nick and Nora Charles, with the added filip of 8-month-old Nick Charles Jr. At the invitation of munitions manufacturer Colonel MacFay (C. Aubrey Smith), the Charleses spend a weekend at MacFay's Long Island estate. The Colonel is certain that his shady ex-business associate Phil Church (Sheldon Leonard) plans to do him harm, a prognostication that apparently comes true when murder rears its ugly head. Though he's promised to cut down on his drinking (after all, he's a daddy now), Nick spends an inordinate amount of time sorting out the clues and identifying the actual murderer-who, of course, is the least likely suspect (and in fact is played by an actor who seldom if ever harmed a fly in any other film). Adding to the merry mayhem is the Charleses' efforts to find a good baby-sitter, resulting in an onslaught of "help"-and additional babies!--courtesy of Nick's old Underworld cronies. ~ Hal Erickson, Rovi
News & Interviews for Another Thin Man
Critic Reviews for Another Thin Man
Audience Reviews for Another Thin Man
The third installment in the series, and made after William Powell's bought with cancer and loss of Jean Harlow, 'Another Thin Man' doesn't miss a beat. Much is made of Powell and Myrna Loy's on-screen chemistry, and it's deserved. While figuring out whodunit, Powell is cool, calm, and bemused, and Loy is spunky and brave. They both have such a natural playfulness about them, and in addition to comic relief from their dog Asta, they have a one year old baby in this movie. I also absolutely loved the dancing we see in the 'West Indies Club' towards the end, by the (uncredited) René Rivero Guillen and Ramona Ajon (stage names René & Estela) - look for the clip on youtube, and you'll see what I mean, it's silky smooth and fantastic.
Antonius Block
Super Reviewer
Although the Thin Man movies get more predictable as the series goes on, the third movie is still a good movie, it's very funny.
½
The third in the Thin Man series also comes up third in quality. Nick and Nora go out to Long Island to visit the manager of Nora's father's finances, because he's worried about a former employees threats. Former employee Phil Church (Sheldon Leonard) claims that if he dreams about a person 3 times, that person winds up dead. Sure enough, the old man winds up dead, and it's Church who is the prime suspect. Things only get more convoluted from here, as the detectives hunt down Church and his gang. If you've seen the previous two Thin Man movies, it's fairly easy to spot the murderer early on, as a formula seems to be developing. They also seem to be running out of gags to do with the dog, Asta. At one point, and for no apparent reason, the dog does a backwards flip while walking towards the stairs, in what appears to be cuteness for cuteness' sake. Speaking of cuteness for cuteness' sake, a baby has been added to Nick and Nora's life, although it plays a very minor role in the proceedings (just at the end). There's still some great dialogue here, though I find it odd when characters who appear to be good, are suddenly found out to be bad, and their manner of speaking changes from erudite to bowery in a matter of seconds. Very odd indeed, see. If youz mugs are in da mood fer a old-fashioned "who-done-it?", you'd best stick wit the foist two movies, see. But if youz arredy seen em, and ya needz yer fix o' flatfeets and gumheels, with hot petunias and dames wit heaters under their jalopies, i guess dis is bettah dan nuttin.
Devon Bott
Super Reviewer
Another Thin Man Quotes
There are no approved quotes yet for this movie.