Another Woman
(1988)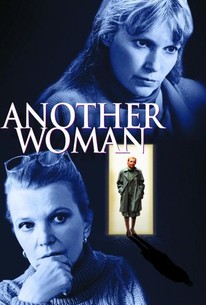 Movie Info
A middle-aged university administrator begins to eavesdrop on her psychoanalyst neighbor, and develops a particular fascination with one patient, a younger woman suffering from marital problems. These sessions lead her to recall a former love affair and reevaluate her own life in this reflective drama from director Woody Allen.
Critic Reviews for Another Woman
Audience Reviews for Another Woman
Not a film for everyone, but one that's well written and affecting, with some good performances on show.
Sophie Burgess
Super Reviewer
½
Slow think piece but a dynamite showcase for the great talents of Gena Rowlands.
It's no secret that Woody Allen idolized Bergman (which shouldn't come as much of a shock, since lots of people, myself included, share the same sentiment). He has tried, with mixed results, to make a true homage to the legend with Interiors and September, but with Another Woman, he finally made a film that not only hits the examining, existential notes that Bergman hit routinely, but one that remarkably feels like a Woody Allen film in terms of its incredibly astute screenplay and beautiful staging. Some have called Another Woman a Wild Strawberries remake, but I would argue that it isn't a remake as much as it is a reimagining, or more to the point, a "repurposing" of the Bergman classic. It is a story of a university professor, played SPECTACULARLY by Gena Rowlands, in whom something stirs when she overhears a therapy session with a young 30-something woman who is discontent with her life. The professor, Marion, feels an emptiness rise inside her -- an emptiness that had settled there years before, that she can consciously feel now. Little by little, like in Interiors but better plotted in Wild Strawberries, the world she has constructed for herself, a cold, cerebral world, deconstructs. Marion despairs, enters into conflicts with herself, and questions endlessly trying to reason her way out of her malaise. But the cure for her malaise is not rational resolution and she, realizing that her strongest characteristic (namely her rational intelligence) is not enough to untangle what worries her, finds herself entirely helpless in the face of an unraveling existence. Her drama is very much like the drama of Professor Isak Borg from Bergman's film, a man on his way to receive a medal for his lifetime achievements. And, on the road, he also succumbs to the same malaise as Marion, the same questioning and the same painful re-evaluation. The horror shared by both Marion and Professor Borg, of course, is that despite their highly lauded accomplishments and their intellectual self-satisfaction, they feel a void. There must, in other words, be something else to life than strictly intellectual work, however satisfying it may be. Another Woman is a testament to the fact that Woody Allen was still at the top of his game in the late 80s. It is a brilliant, honest and perceptive film. It makes one wonder how different Bergman's films would have been if he didn't dismiss the visual sophistication that Allen spent most of his early career developing. In addressing the criticism of Another Woman, sure, a few beats feel contrived and forceful, but considering the heavy questions being posed, and the unrelenting commitment that Allen has to the material, this film had plenty of opportunities to fall flat on its face, and to its credit, it never does. In fact, it excels thanks to a fantastic script, brilliant performances, and a wise small dose of visual styling. This is Woody Allen at the height of his powers.
Jonathan Hutchings
Super Reviewer
Another Woman Quotes
There are no approved quotes yet for this movie.