Anthropoid
(2016)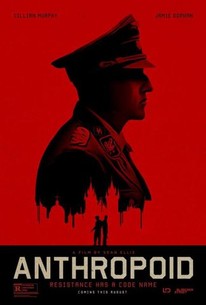 Movie Info
ANTHROPOID is based on the extraordinary true story of "Operation Anthropoid," the code name for the Czechoslovakian operatives' mission to assassinate SS officer Reinhard Heydrich. Heydrich, the main architect behind the Final Solution, was the Reich's third in command behind Hitler and Himmler and the leader of Nazi forces in Czechoslovakia. The film follows two soldiers from the Czechoslovakian army-in-exile, Josef Gabčík (Cillian Murphy) and Jan Kubis (Jamie Dornan), who are parachuted into their occupied homeland in December 1941. With limited intelligence and little equipment in a city under lock down, they must find a way to assassinate Heydrich, an operation that would change the face of Europe forever.
News & Interviews for Anthropoid
Critic Reviews for Anthropoid
Audience Reviews for Anthropoid
½
Anthropoid is one of those rare thrillers that actually educates viewers. The plot is based on the WWII operation to assassinate the Reich's third in command, Reinhard Heydrich. A group of Czechoslovakian soldiers chose to follow orders, a rather commendable action that the film throughly explores. Disregarding their own fates, they chose to do what they believed was the right decision made by government officials in London. They knew the power that Heydrich held in Czechoslovakia and was a valuable asset to the Nazi regime. The beauty of this film, is that I knew nothing about Operation Anthropoid. Having watched this I've taken several pieces of information away therefore proving to be a successful representation of the story. The cast were all pretty good, especially Jamie Dornan who conveyed that vulnerability really well. The legend though, and I use that word with great power, is Cillian Murphy. Possibly one of the most underrated actors working today, he was superb yet again. The more serious and level headed of the pair, he showed emotional conviction and a sense of authority. One thing I did notice was that the forced Czech accents were fading in certain scenes, I'm not the biggest fan of English actors putting on fake European accents. Sean Ellis was a solid director, the final act alone impressed me. Oh and the last five minutes...palpable. Some really beautiful cinematography and was able to capture the tension terrifically. The production design was also fitting, it felt like 1940's Prague and I couldn't tell if any green screen backdrops were used so it looked authentic to me. My biggest negative is the pacing. The first half is so slow and monotonous that I was convinced this was going to go no where. Second half? BOOM! Action, thrills, tension! Perfect for a big screen iteration. The third act is just relentless war...definitely captivating. I also wished the screenplay explored the consequences of the assassination attempt, there was just one scene. Overall though, a slow first half leads to a thrilling second half. Educational and exciting.
Luke Andrews
Super Reviewer
I enjoyed this lively take on a plot to assassinate #3 on the list of Nazis terrorizing Europe during WWll. Part of the reason why is the gentle underscore of fear throughout the piece and how it is a minute by minute battle to live with it, how demoralizing it is in the face of completing your assigned mission, particularly if your mission means certain death for yourselves. Riveting and provocative, the romances thrown into the mix only accent the action, not divert from it.
Kevin M. Williams
Super Reviewer
Flat characters and a slow plot hinder a dynamic tale from World War II history from getting off the ground. The acting was good, with fine (if unimaginative) costumes and hair styling, but otherwise the film lacks the polish one would expect from this type of film. If this film is trying to measure up to "Valkyrie", it has come up short.
Christian C
Super Reviewer
Anthropoid Quotes
There are no approved quotes yet for this movie.