Anti Matter
(2017)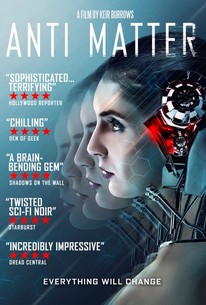 Movie Info
Anti Matter is science fiction noir. Ana, an Oxford PhD student, finds herself unable to build new memories following an experiment to generate and travel through a wormhole. The story follows her increasingly desperate efforts to understand what happened, and to find out who - or what - is behind the rising horror in her life. Directed by Keir Burrows and produced by Dieudonnée Burrows.
News & Interviews for Anti Matter
Critic Reviews for Anti Matter
Audience Reviews for Anti Matter
All in all, this isn't bad for a micro-budget sci-if venture. Imagine if Primer was half as smart but had actual actors, sets, cinematography, and unjargonofied dialogue. Granted, it takes most of the first act to warm up to the amateur acting, but, unlike the aforementioned, beloved, indie time-travel flick, at least the actors attempt pathos past reciting their lines. Phillipa Carson, who brings to mind early Star Trek: TNG Marina Sirtis, plays a chemist who has discovered a method of phasing matter across the room via wormhole, and she gets her boyfriend and the cool goth hacker chick to test it out. With the threat of being beaten to a patent by Microsoft (?), Carson enters the wormhole, and, as you would expect while doing something scientifically dangerous, her life gets flipped-turned-upside-down. It's an interesting premise, and it keeps you guessing for most of the film. Unfortunately, curiosity abates gradually by the end of the second act as the movie falls into predictable tropes and leans hard on the weepy framing device. For a first time director, Keir Burrows shows that he has a lot of potential, opting for quick cuts instead of drawn out film-school masturbation. But his editing does become jarring too early on. As silly as it gets, I'm very glad they made this film. As much as we pine for original ideas, no worries, this one is ahead of the curve. There needs to be more movies like this one, but better.
K Nife Churchkey
Super Reviewer
Anti Matter Quotes
There are no approved quotes yet for this movie.