Antibody
(2002)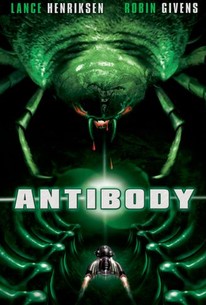 AUDIENCE SCORE
Critic Consensus: No consensus yet.
Movie Info
Lance Henriksen stars as ex-FBI agent Richard Gaynes in this made for video techno-thriller, which has much in common with the classic 1966 science fiction feature Fantastic Voyage. A brilliant bomb expert, Gaynes is miniaturized and injected into the bloodstream of comatose terrorist Anthony Moran (Julian Vergov). The reason? There's a microchip imbedded somewhere within Moran that is set to trigger a worldwide nuclear holocaust within 24 hours. Going along for the ride is the requisite Sexy Woman Scientist, played by Robin Givens. Originally rated R, Antibody was toned down a bit for its "official" US debut, which occurred February 8, 2003 on cable TV's Sci-Fi Channel.
Critic Reviews for Antibody
There are no critic reviews yet for Antibody. Keep checking Rotten Tomatoes for updates!
Audience Reviews for Antibody
Fantastic Voyage without the novelty that film provided with a trip inside the human body. Or the special effects, for that matter, even competing against 1966. They bit off way more than their programmers could chew here with simplistic, dull sets and CGI. Obviously a European production as all non-starring roles populated with thick accents - good idea to set it in Berlin. Lance Henriksen does what he can with the script, which does offer its characters some opportunities for development. They sure as hell aren't competing with a barrage of special effects all the time. Robin Givens still lookin' good in 2002, but honey, shitcan the blue eyeshadow! That warpaint is scarier on you than the invading white blood cells.
Doctor Strangeblog
Super Reviewer
Innerspace + B movie + attempt to be serious = Antibody. This is a sci-fi in the tradition of the 60s sci-fis! If you are expecting quality - you will nor enjoy this move. If you enjoy campy, cheesy, fun... you may like this (if there is nothing else to watch! Good to see Robin Givens again, but I see why we see so little of her now!! Please do not try to take this movie serious in any way!!
Thomas Johnston
Super Reviewer
Antibody Quotes
There are no approved quotes yet for this movie.