Antigone
(1974)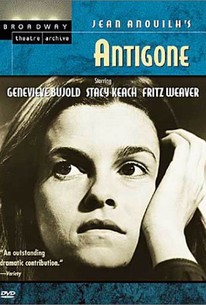 AUDIENCE SCORE
Critic Consensus: No consensus yet.
Movie Info
French playwright Jean Anouilh's modernized version of the classic Greek tragedy Antigone sets the story in the sleek palace of a fascist state ruled by Creon (veteran stage actor Fritz Weaver). His niece Antigone (Geneviève Bujold, Dead Ringers) is horrified by Creon's order that the body of her brother--who led a rebellion against the state--be left on the battlefield to rot. When she violates the edict, guards haul her before Creon, who struggles to convince her that his reasons are honorable, despite the ugly consequences, but Antigone remains steadfast, even though her death will result. The great strength of Antigone is that there is no easy solution to the conflict, which leads to disaster for everyone involved. Bujold glows as the obsessed, martyrlike Antigone; Weaver brings passion to Creon's mixture of reason and tyranny; and Stacy Keach (Fat City) plays the narrating Chorus with a weary, ironic detachment. --Bret Fetzer
Critic Reviews for Antigone
All Critics (1) | Fresh (1) | Rotten (0) | DVD (1)
This is a gripping, mesmerizing piece of work. Set in a Thebes that's a 20th century martial society.... The production is most remembered for Genevieve Bujold, then a rising star...
Audience Reviews for Antigone
½
An excellent performance from Genevieve Bujold is the highlight of this filmed play but the modern adaptation of the classic story is clunky. Fritz Weaver, Aline MacMahon and James Naughton also are fine but Bujold dominates here.
Antigone Quotes
There are no approved quotes yet for this movie.