Antitrust
(2001)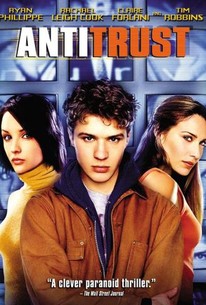 TOMATOMETER
AUDIENCE SCORE
Critic Consensus: Due to its use of cliched and ludicrous plot devices, this thriller is more predictable than suspenseful. Also, the acting is bad.
Movie Info
Just how far should one man go to stay ahead of his competition? Milo Hoffmann (Ryan Phillippe) is a young and gifted computer software designer who with his close friend Teddy is about to launch a high-tech start-up firm based on Milo's inventive ideas in convergence, in which he's helping to create new ways for different forms of digital technology to work in harmony. However, before Milo and Teddy can get their company off the ground, Milo receives a very tempting offer from Gary Winston (Tim Robbins), a trailblazing genius in the digital world who has turned his company N.U.R.V. (which stands for "Never Underestimate Radical Vision") into one of the richest and most powerful computer firms on Earth. While Milo is sympathetic to Teddy's beliefs that computer technology should belong to the people and that open source software is the most promising future lies, Winston has long been Milo's role model in design and research, and Milo feels Winston's offer is too good to pass up. Milo and his girlfriend Alice Poulson (Claire Forlani) move out to Silicon Valley, and at first Milo thrives on the challenges of his new position, and develops a close working relationship with fellow designer Lisa Calighan (Rachael Leigh Cook). But Milo underestimates the ruthlessness of the leading-edge software industry, and he soon learns there's a sinister undercurrent to Winston's drive to stay on top. Antitrust earned rising star Ryan Phillippe his first million-dollar paycheck after well-regarded roles in 54 and Cruel Intentions.
News & Interviews for Antitrust
Critic Reviews for Antitrust
Audience Reviews for Antitrust
A thriller that starts out fun and likable but ultimately ends on a remarkably absurd note. Don't get me wrong, I enjoyed parts of it and I've definitely seen worse, but the end of this kept the stupid coming, and coming, and coming. The bright spots? Ryan Phillippe is routinely excellent (he has the ultimate "BS face", also seen in "Breach") and the film doesn't get too pretentious because it's evident it's just a fun little movie. Too bad they overdo the fun and crank up the cheesiness to an unbearable degree at it's conclusion.
Dan Schultz
Super Reviewer
This tale of a software writer who discovers the success of his Bill Gates-like boss and menor may be based more on treachery than talent, is unfortunately degenerates from topical drama to ludicrous thriller.
Dean McKenna
Super Reviewer
One of those movies I liked when I was still in college.
Antitrust Quotes
There are no approved quotes yet for this movie.