Antoine et Antoinette
(2013)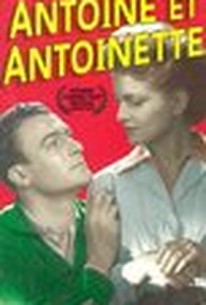 Antoine et Antoinette Photos
Movie Info
Jacques Becker's Antoine et Antoinette bears echoes of the early-talkie Rene Clair classic Le Million. Roger Pigaut plays Antoine, a foreman in a bookbinding factory, while Claire Maffei portrays his salesgirl wife Antoinette. The story gets under way when a valuable lottery ticket is lost, sending hero and heroine into a tizzy. Before a happy ending can be attained, Antoine and Antoinette come in contact with a wide variety of supporting characters, many of whom have a vested interest in that ticket. By filming his story against a backdrop of actual locations and realistically appointed studio sets, co-writer/director Jacques Beckerhas transformed this wafer-thin comedy romance into an encapsulation of the Parisian working class. ~ Hal Erickson, Rovi
Critic Reviews for Antoine et Antoinette
Audience Reviews for Antoine et Antoinette
Antoine(Roger Pigaut) works for a printer, where aside from making his quota, so he can enjoy the weekend, he also tries to help his co-workers when possible. He also brings home surplus books that his boss gives him. His wife Antoinette(Claire Maffei), a department store clerk, shares them with her friends and co-workers. Together, they dream of owning a motorcycle and sidecar, but apparently no kids, while barely making ends meet. While it might seem odd at first that Jacques Becker who is mostly remembered for crackerjack crime movies also made a comedy, "Antoine et Antoinette" also proved that he had a sure hand with this genre, too, especially with the great chemistry between the two leads. Ironically, he also made it in the style of his crime movies, with plenty of suspense, which would not work for everyone.(Especially Hitchcock whose sense of humor was too morbid for such a sensitive undertaking.) That's even with no crime in the story, outside of lots of sexual harassment which is thankfully never winked at. While the movie is also very carefully plotted, it is also at times a little far-fetched. Near the climax, one of the characters even points out the coincidence but it's not a huge one if one thinks about it.
Antoine et Antoinette Quotes
There are no approved quotes yet for this movie.