Anton Chekhov's The Duel
(2010)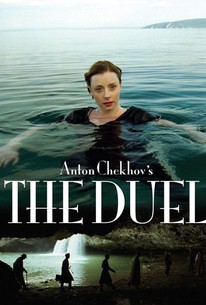 Anton Chekhov's The Duel Photos
Movie Info
Save Shakespeare, Chekhov is the literary giant whose work is most frequently adapted for the screen. Based on his eponymous 1891 novella, THE DUEL gives life to a classic Chekhovian tale: the young ne'er-do-well aristocrat vs. the arrogant man of science; the attraction of a manipulative, narcissistic mistress vs. the life of the mind and of principled action. Gambling, alcohol and flirtations consummated in an impossibly beautiful countryside hold obvious attractions for Laevsky. But he's brought up short when financial ruin and his mistress's sexual dalliances lead to a violent denouement. Dover Kosashvili, director of LATE MARRIAGE, assembles a brilliant ensemble cast of British actors who strike just the right balance between intrigue and that particularly Russian brand of ennui we associate with Chekhov -- but which today might elicit a prescription for Celexa. -- (C) Film Forum
Critic Reviews for Anton Chekhov's The Duel
Audience Reviews for Anton Chekhov's The Duel
An aristocrat who questions his relationship with a married woman incites the ire of a scientist in the Russian countryside. Everything worth loving about Chekhov - the subtlety, the well-drawn characters, the crises of conscience - is here and filmed beautifully. I especially liked the performance by Andrew Scott as Vanya who performs a scene that is described in the script as "hysterics," but I think the best phrase is an "existential paroxysm." The Duel is a film built on subtext, and it takes a sharp, discerning eye to appreciate why the characters behave as they do, each action sharply motivated. I thought that the subplot of Vanya's financial difficulties was never resolved, but I suspect that an apologia for this film would suggest that larger existential issues over-weighed money; it's true, but a commitment to solving all his problems would not have been hard to show. Overall, Anton Chekhov is one of world literature's great writers, and The Duel displays all the great aspects of his work.
Jim Hunter
Super Reviewer
½
A Russian tale that takes a fleeting look at the human condition, accomplished with smart production values, as a dissolute clerk and a fastidious budding scientist disagree about life itself and how it should be lived. Of course there is a confused woman between them. Not bad at all.
Kevin M. Williams
Super Reviewer
½
As Laevsky(Andrew Scott, of "Sherlock") confides to his friend Samoylenko(Niall Buggy), he no longer loves his lover Nadia(Fiona Glascott), a spendthrift. What truly frightens Laevsky is that he has a letter in his possession that tells him that Nadia's husband is now dead, of which she is unaware. And once she is aware, it is a one way trip to the altar. For this and other reasons, Von Koren(Tobias Menzies) does not like Laevsky, feeling that in his day affairs were conducted entirely in private. Plus, Laevsky outdoes himself when it comes to sloth and indolence. With its deliberate pace and excellent cinematography, "The Duel" is an evocative movie that bottles one point in time, allowing us to observe it at our leisure. But then time is never entirely static as the people along with the social mores of the era are evolving however slowly. Also this serves as a valuable reminder that lovers and spouses are two separate categories of people but that does not mean they cannot be loved in the same ways. And who knew a movie based on a work by Anton Chekhov could be so darn sexy?
Anton Chekhov's The Duel Quotes
There are no approved quotes yet for this movie.