Antonia (Antonia's Line)
(1995)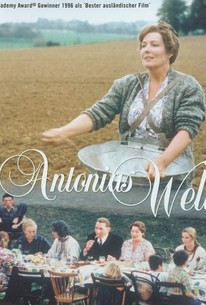 TOMATOMETER
AUDIENCE SCORE
Critic Consensus: Magical and morbid, Antonia picturesque landscapes and proficient performances elevate a somewhat pedestrian parable.
Antonia (Antonia's Line) Photos
Movie Info
A strong-willed Dutch woman recalls her life in this uplifting picture that won the 1996 Academy Award for Best Foreign Language Film. Antonia (Willeke van Ammelrooy) is an elderly woman who wakes up one morning and realizes that this is the last day of her life. She begins to tell her story in flashback, beginning with her arrival home to the family farm after World War II with her daughter, Danielle (Els Dottermans). For the next fifty years, a variety of colorful characters come and go on the farm. Danielle becomes a painter, and decides she wants a child but no husband, so Antonia arranges the proper donation. Danielle giving birth to Therese (Veerle van Overloop), who laters has her own child, Sarah (Thyrza Ravesteijn), also without virtue of a husband. Antonia and her descendants come to symbolize the freedom of independent females, with little need for men in their lives.
Critic Reviews for Antonia (Antonia's Line)
Audience Reviews for Antonia (Antonia's Line)
Antonia's Line is a quirky and whimsical story of Antonia with themes on love, family, and community that also gently explores topics on feminism and independence. Emotionally engaging, pleasant, and precious masterpiece. Remarkable.
Jan Marc Macababayao
Super Reviewer
A woman recalls her entire adult life on her deathbed. This film is way too expository, relying almost solely on narration to tell the story. It's not really a film because it uses almost none of the elements inherent to film; rather, it's a short novel with pictures and actors. A perfect example of the film's flaws is the impact of the second rape scene. Out of the blue, we hear that a character has been raped, and then we see Antonia's response to it, taking a gun and kicking the rapist out of town. But this sequence, ripe with emotional resonance, has almost no impact on the audience because there wasn't an adequate set-up, so that we can feel suspense and fear for the victim, and there wasn't any visual, graphic or implied, that allowed us to see the result of the crime. The sequence becomes mere Cliff's Notes, and the same problem pervades the entire film. And the titular character is almost a minor role. I'm surprised that the film didn't center around her and the other interesting character, "Crooked Finger," more. Overall, Antonia's Line is like the connective tissue of a Victorian novel, over-narrated, maudlin, and unspecific.
Jim Hunter
Super Reviewer
One of the most wonderful generational pictures that I have been witness to. Not just a "womens' film"
John Ballantine
Super Reviewer
Antonia (Antonia's Line) Quotes
There are no approved quotes yet for this movie.