Antwone Fisher
(2002)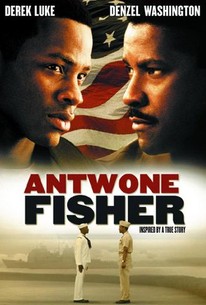 Movie Info
The directorial debut of Academy Award-winning actor Denzel Washington, Antwone Fisher is an autobiographical drama written by the real-life Antwone Fisher. Played by newcomer Derek Luke, Antwone is a volatile young sailor in the Navy, getting into trouble for his constant fighting. When he gets appointed to see naval psychiatrist Dr. Jerome Davenport (Denzel Washington), he begins to reveal the emotional problems behind his rage. Through an introduction to anger management, Antwone is able to confront some secrets of his past and eventually search out his family for a confrontation. Also starring model-turned-actress Joy Bryant as Antwone's girlfriend, Cheryl, and Salli Richardson as Davenport's wife. Antwone Fisher's memoir, Finding Fish, was released to book stores right before the film's theatrical release. ~ Andrea LeVasseur, Rovi
News & Interviews for Antwone Fisher
Critic Reviews for Antwone Fisher
Audience Reviews for Antwone Fisher
My type of movie. I saw it for a second time some 5 years later, and reduced my rating a bit, but it is still my type of movie - a drama where the characters care and where they learn something about themselves, and sure enough where there is a positive outcome.
Antwone Fisher is a pretty good drama, directed by actor Denzel Washington in his first directorial outing. The story is a well thought out, engaging, and the cast are very good in their roles. Washington is a standout actor, one of the finest that I have seen. With this film, he displays a unique eye for crafting a truly engaging story, and he is aided with some standout performances. Derek Luke is great in the title character, and he adds so much to the film, that really makes this picture standout. I liked the film, but at times there are things that don't seem to work, and the material could have been handled better. Luckily the performances standout, and that's the strongest aspect of the film. I wanted to really enjoy the film, but at times, some parts of the film tried to be a bit too ambitious, as if Denzel Washington had something to prove in the director's chair. The film was good, but it felt that the filmmakers tried too hard at making a memorable drama. In the end, the film was entertaining, but you could clearly see that the film tried too hard at being more than what it was, and it didn't end up being the film that it could have been. Luckily the performances here save the film, and also it does show that Washington is capable as director, but for this first directorial effort, he tried a bit too hard at delivering a drama that just made you want more out of the film. If you're a fan of Denzel Washington, this is worth seeing, but it's not a truly memorable drama. It's more of a good drama that could have been improved upon. But for what it is, it's nonetheless an engaging picture that relies on a good story and is saved with engrossing performances by its cast.
Strong acting and terrific story, based on the real-life experiences of former U.S. navy man Antwone Fisher. Before I saw this, I had no idea that Denzel Washington had done some work behind camera. What I can say now though, is that he ought to do it more often. For his directing in this feature is quite phenomenal, and his acting on-screen just the same. It would be unjust to lay all focus on him though, as his co-star Derek Luke easily matches that excellence. I'm surprised we haven't seen more of him, because his performance in this film is truly worthy of recognition. It's genuine and touching, and his story a highly riveting one to follow. Wonderful supporting cast as well, whose combined talents makes this anything but run-of-the-mill. Engrossing all the way and with a moving and heartwarming ending. Not to be missed if you appreciate great dramas.
Antwone Fisher Quotes
| | |
| --- | --- |
| Dr. Jerome Davenport: | You're the champ, son. You've beaten everyone whose beaten you. |
| | |
| --- | --- |
| Antwone Fisher: | What you say?! |
| Antwone Fisher: | What you say? |
| | |
| --- | --- |
| Spinoza: | I don't know, what do you think? |