Anvil! The Story of Anvil
(2009)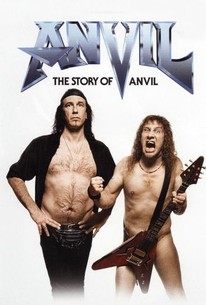 TOMATOMETER
AUDIENCE SCORE
Critic Consensus: A touching, uplifting and inspirational rockumentary about an aging metal band, both hilarious and heart-warming in equal measure.
Anvil! The Story of Anvil Photos
Movie Info
About the Canadian metal band Anvil. At 14, Toronto school friends Steve "Lips" Kudlow and Robb Reiner made a pact to rock together forever. Their band, Anvil, went on to become the "demigods of Canadian metal," releasing one of the heaviest albums in metal history, 1982's "Metal on Metal." It went on to sell millions of records, but Anvil's career didn't flourish afterwards. Instead, they went straight to obscurity.
News & Interviews for Anvil! The Story of Anvil
Critic Reviews for Anvil! The Story of Anvil
Audience Reviews for Anvil! The Story of Anvil
½
This band's story is a hopeful and endearing rock fable that touches the heart of many, even non metal fans like myself. Robb and Lips are two dedicated artists who never had the recognition they deserved.
Pierluigi Puccini
Super Reviewer
½
A lot of the metal bands that started in the early 1980s are still relevant today, some are even more popular than ever. This is the true story of one band that started out with them but never made it anywhere. The documentary follows the two founding members Lips and Robb, from their day jobs to a catastrophic European tour, from new hope with another record to the search for a label. That's as disenchanting as it is charming and funny. The two musicians never gave up on their dream and still refuse to do so. To see them try and fail over and over is both embarrassing and touching at the same time. This would not be a great underdog story if it wasn't for the ray of hope in the final act. Every viewer of this film will certainly check wikipedia afterwards to find out where their road took them recently. And it'll leave a smile on their face.
You don't need to love metal, you just need to love honest artists. In the early going, you can't help but compare it to This Is Spinal Tap, and start to wonder how much of it is put on, but you quickly realize that this story is too common and too pure to be faked. There are hundreds of bands out there who almost made it... and next to none of them can say they've been together 30 years, like Anvil has. When Anvil was unable to follow up their shot - the final slot on a tour of Japan that also featured Scorpions and Bon Jovi - they wound up doing everything themselves. The Story of Anvil is a touching documentary that can bring you to tears in some places - Lips and Robb never quite lose that fanboy joy, no matter how badly things go, or which members of which big bands don't remember them - and it can make you laug out loud in others. Typical line: "The tour went wrong. Everything went disastrously wrong. But at least there was a tour for things to go wrong on. I don't regret a minute of it." Talk about an optimist! At its core, this film is about two regular guys who just love what they do, and who keep doing it, for themselves and for each other. As every struggling artist knows, you have to imagine that Sisyphus is happy. Excellent documentary, a wonderful surprise.
Daniel Perry
Super Reviewer
Anvil! The Story of Anvil Quotes
There are no approved quotes yet for this movie.