Any Given Sunday
(1999)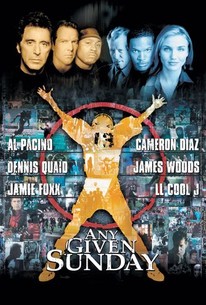 Movie Info
Life is a contact sport and football is life when three-time academy award-winning filmmaker Oliver Stone and a dynamic acting ensemble explore the fortunes of the Miami Sharks in Any Given Sunday. At the 50-year line of this gridiron cosmos is Al Pacino as Tony D'Amato, the embattled Sharks coach facing a full-on blitz of team strife plus a new, marketing-savvy sharks owner (Cameron Diaz) who's sure Tony is way too old school. An injured quarterback (Dennis Quaid), a flashy, bull-headed backup QB (Jamie Foxx), a slithery team doctor (James Woods) and a running back with an incentive-laden contract (LL Cool J) also provide some of the stories that zigzag like diagrams in a playbook. and throughout, there's the awesome spectacle of motion, sound and action orchestrated by Stone.
Critic Reviews for Any Given Sunday
Audience Reviews for Any Given Sunday
½
Oliver Stone brings his unique style to the sports drama in his 1998 film Any Given Sunday. The film wastes no time to get into the face of the action. Cinematographer Salvatore Totino plunges the camera right into it, and the movements are fast, confusing and all over the map. Despite this, there are still some interesting shots of in depth Football footage, and it's cool to see, if you can get past the frantic pace. However this is an awful sports film that had potential of being a great film. Unfortunately, the script lacks anything that is interesting in terms of a truly compelling sports film. Oliver Stone tries far too hard at delivering a film that all testosterone and no substance. There's nothing on-screen to appeal to viewers and sports drama enthusiasts. Any Given Sunday is forgettable in the long run, and it definitely doesn't stand out among other sports classics. Oliver Stone misses the mark with this movie, and he is better with conceiving kinetic action flicks like Natural Born Killers than making Sports dramas. This was really the start of a creative rut for Stone, and he would not recapture that energy until 2006's World Trade Center. This movie is just a collection of sports clichés and wasted talent. Oliver Stone has made one of his worst films with this one and it fails in terms of a truly compelling plot and effective performances. I really didn't enjoy this one, and though it had great Football footage, it wasn't enough to deliver a truly memorable sport drama. Stone is a good director, but with this genre, he should never touch another film like this. The material was lacking, the talent was there, but ultimately the execution was poor and ultimately not worth your time. At one point near the ending, we see a sports caster played by director Oliver Stone shake his head as if he realized his film was bad, and it is.
½
Wonderful cast. Wonderful director. Woeful film. I really thought I was going to like this, considering the talent involved and the fact that American sports tend to be good stock for film material. Sadly not on this occasion. Al Pacino plays Tony D'Amato, a coach for the fictional Miami Sharks, a team who have hit a real slump in form and are struggling to hold their own on the football pitch. The team has too many Chiefs and not enough Indians and D'Amato not only has to manage the on-field antics of his players but also the off-field antics and spiraling ego's. This is all done with new hard-ass owner Christina Pagniacci (Cameron Diaz) breathing down D'Amato's neck demanding results. There is such a brash in-your-face kinetic energy to this film that you dont get a minute to relax throughout it. Pacino has several of his usual in-your-face rants, Oliver Stone's direction and dreadful cameo are in-your-face, the sharp and edgy editing is in-your-face. The whole exhibitionist sport is in-your-face. So much so, that it becomes very abusive and quite frankly, tiresome very early on. Added to this, the film goes on for at least an hour over its recommended running time, bombarding us with some very high testosterone and machismo. The only positives rest with the impressive use of close contact football scenes, complete with disorientation and crunching tackles and the fine cast, particulary Cameron Diaz who shows she can match the rants and aggression of Pacino, who's one of the best in the business. It's just disappointing that the film couldn't supply the great ensemble with some material to work with. On Any Given Sunday, I'd avoid this stinker.
Mark Walker
Super Reviewer
Never before has something I have no interest in, been so exciting. I'm not a real fan of any sport and American Football is something I find mostly dull. Stone manages to create an instantly unforgettable opening. He knows sports movies will only play to a certain crowd, so he dives into the world of football, not just the sport itself. We're taken on a fast and frantic tour. We see the game itself, the commentators, the journalists, the business women, the coaches etc. It makes the game feel so technical and calculated that it really feels like a battle. Over the course of the film we also get glimpses of the medical aspect and even the religious side. The character drama is also present. Every ying has a yang and all sides are represented fairly. The editing and acting are both powerful and used sparingly. The script itself gives enough time to each character and situation and has some excellent dialog. All star cast in an all star film that isn't just for American Football fans.
Luke Baldock
Super Reviewer
Any Given Sunday Quotes
| | |
| --- | --- |
| Tony D'Amato: | I yell a lot. Is that acting? Is that good enough? |
| | |
| --- | --- |
| The Commissioner: | [of Christina Pagniacci] I honestly believe that woman would eat her own young. |
| | |
| --- | --- |
| Tony D'Amato: | That's what a leader's about; sacrifice. The times he's gotta sacrifice because he's gotta lead, by example. Not by fear and not by self-pity. |
| | |
| --- | --- |
| Tony D'Amato: | On any given Sunday you're gonna win or you're gonna lose. The point is, can you win or lose like a man? |