Any Which Way You Can
(1980)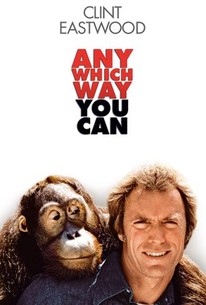 Any Which Way You Can Photos
Movie Info
This is the sequel to Clint Eastwood's action comedy Every Which Way But Loose, and again features the antics of professional pugilist Philo Beddoe and his simian pal Clyde the orangutan. This time, Philo thinks about heading back to the ring so he can win a big prize.
Critic Reviews for Any Which Way You Can
Audience Reviews for Any Which Way You Can
A laugh-out-loud great time. An endlessly hilarious and action-packed movie that's more fun than the original film. Clint and Clyde are back and delivering the laughs and heart that you love. Their isn't no other way but the fun way with this movie. It gets better every time i watch it. A wacky, wild and dazzlingly funny movie.
½
Clint Eastwood still acts wonderfully and the film has slightly better pacing than its predecessor but ultimately the jokes are tired and resultingly the film is any which way but good.
Directors Cat
Super Reviewer
½
Interesting how a film can average 3 stars on Flixster, but 4.5 on Netflix. I agree more with the latter. I have no shame telling anyone that Clint's my favorite actor of all time, and this is yet another one that rocks (all of them do to me, though, whether he acts, directs, or both). I found "Any Which Way You Can" to have a good bit of humor, nice fighting scenes, good music that fits the western theme, and the ape doesn't bother me at all. I found the ape to add more to this film than it did in the original ("Right turn, Clyde" *punch!*). Oh yeah, brownie points for much of it being shot in Jackson, Wyoming, which I visited in '09 (I remember that elk horn arch!). And it was made right after I was born - that's also an extra cool factor. I loved it.
Jason Owens
Super Reviewer
Any Which Way You Can Quotes
There are no approved quotes yet for this movie.