Anywhere but Here
(2000)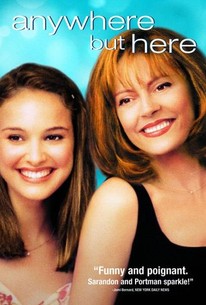 TOMATOMETER
AUDIENCE SCORE
Critic Consensus: The strong chemistry between Susan Sarandon and Natalie Portman as a mother and daughter trying to make a fresh start in L.A. helps to elevate Anywhere But Here above its occasional forays into melodrama.
Movie Info
Mona Simpson's acclaimed novel comes to the screen in an adaptation directed by Wayne Wang. Tired of her life in a pleasant but unremarkable Midwestern city, where everyone knows everyone else's business, Adele August (Susan Sarandon) packs up her belongings to move to the bright lights of Beverly Hills. But her teenage daughter Ann (Natalie Portman) isn't as excited about the move; Ann has a sense of practicality that her mother lacks, and their shift in locale puts a serious strain on their relationship, as Ann makes plans to move away for college. The supporting cast includes Shawn Hatosy, Hart Bochner, and Bonnie Bedelia.
Critic Reviews for Anywhere but Here
Audience Reviews for Anywhere but Here
Whiny drama about a selfish foolish woman and her conflicted annoying daughter.
½
Overlong, underdone and unfocussed despite the fantastic central performances. Full review later.
Thomas Bowler
Super Reviewer
Adele: Providence, Rhode Island? Couldn't you have gotten any farther away from me?  "A story of a mother who knows best... and a daughter who knows better." I like Susan Surandon and love Natalie Portman, yet I strongly dislike Anywhere But Here. It's melodrama for 2 hours and it just gets annoying. The story is that of a mother, daughter relationship. They leave Bay City, Wisconsin for Beverly Hill, California; much to chagrin of Ann(Natalie Portman). Ann is annoyed by her mother(I don't blame her), but still loves her. Adele(Susan Surandon) really annoyed me. I hated her character a lot more then I hated the movie.This movie definitely has a target audience. That target audience is any female who will cry at the slightest dramatic moment as long as it has sad music.  I guess I can come up with a few good things about this movie. Obviously it has a good cast. It also has Danny Elfman doing the score and Roger Deakins doing the cinematography. That's about the extent of what I can say I enjoyed about it. The story is nothing new. It's pretty much just a study of a mother-daughter relationship and not a very good one at that. It probably would have helped slightly if I was a mother or a daughter.
Melvin White
Super Reviewer
Anywhere but Here Quotes
There are no approved quotes yet for this movie.