Anzio (Lo sbarco di Anzio)
(1968)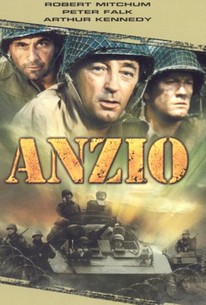 Anzio (Lo sbarco di Anzio) Photos
Movie Info
In this war drama, a group of Allied soldiers are trapped behind enemy lines at Anzio during WWII. Ennis is the worldly journalist who rankles the troops he is assigned to cover. Ennis and seven soldiers come under fire and struggle to survive during the frenzied fighting.
Critic Reviews for Anzio (Lo sbarco di Anzio)
All Critics (6) | Top Critics (1) | Fresh (4) | Rotten (2) | DVD (1)
Anzio is unusual in its ability to make the military strategy clear and interesting; instead of anonymous men wandering around chaotically, we get a coherent picture of the campaign's successes and failures.

Anzio's not exactly considered a "classic" in the war-story genre, but it'll absolutely do for a rainy Saturday matinee.
Audience Reviews for Anzio (Lo sbarco di Anzio)
A excellent WWII movie about the Battle of Anzio (Italy) showing the landing and the days leading up to the pushing back of the German troops. Robert Mitchum plays a war news paper reporter who no only brings back much needed intelligence but he is also responsible for the removal of a General who drops the ball and could have march troops all the way to Rome with little if any resistance. Excellent overall War Movie, just don't make them like this anymore. Peter Falk also plays an excellent part in this movie , No less then5 stars.
Bruce Bruce
Super Reviewer
Anzio (Lo sbarco di Anzio) Quotes
There are no approved quotes yet for this movie.