Apartment Zero
(1989)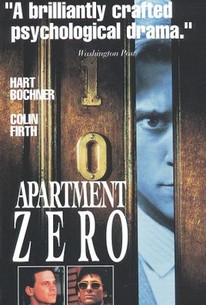 Movie Info
Set in post-Junta Argentina, Apartment Zero uses the story of a gay romance to ponder whether or not the overthrow of the military government had really changed anything. Preferring to be an "outsider", Argentinian Colin Firth pretends to be British. Firth escapes from reality by holing up in the movie theatre that he owns. His life is turned around by his new roommate Hart Bochner, who seems to be the living embodiment of Firth's film icons James Dean and Montgomery Clift. Firth's apolitical attitudes--and his sexual attraction to his new roommate--are tested to the breaking point when it becomes apparent that Bochner is in the employ of the government, arranging the "disappearances" of political dissidents. Given the number of films that have been expanded to "director's cut" length on videocassette, Apartment Zero is a rarity: it was shortened by director Martin Donovan for the video version.
News & Interviews for Apartment Zero
Critic Reviews for Apartment Zero
Audience Reviews for Apartment Zero
½
In "Apartment Zero," Adrian LeDuc(Colin Firth) runs a moribund repertory cinema club in Buenos Aires but turns down his friend Claudia's(Francesca d'Aloja) offers to rent out his theatre for political meetings, preferring, in his words, to keep the blood off the walls and on the screen. With his mother(Elvia Andreoli) requiring constant medical care, he puts an ad in the newspaper for a roommate. After a few applicants that do not meet his high standards, Jack(Hart Bochner), a hunky American, shows up to rent the room, with Adrian even making him breakfast. Early on in "Apartment Zero," Adrian admonishes people who watch films on video, saying they prefer to skip through the slow parts. Later on, I was thinking again of that statement, wondering if Adrian could possibly be commenting on the film he is in, as it suffers from a particularly crawling pace, even with its psychosexual themes on full display. Just as the movie finally kicks into gear when it takes a turn towards the baroque in its last act, it also takes an extremely roundabout way to also take full advantage of its intriguing post-junta milieu. A situation Adrian ignores because he has had his head in the sand, apparently due to his love of movies.(He even acts more English than Argentinian.) In any case, Colin Firth is superb, years before he would cause half of England to have a spontaneous orgasm.
½
An intriguing, intense psychological thriller with sexual overtones set in Buenos Aires, about a lonely cinema owner Adrian LeDuc, played by Colin Firth in a sensational, multi-layed performance, who's life is changed when circumstances forced him to rent his insane mother's room who is the hospital, to a mysterious, handsome stranger named Jack Carney, played by Hart Bochner in a compelling performance. Adrian is obsessively attracted to Jack, and the two form a bizarre relationship, that has an unspoken sexual longing. This connection becomes troubled when reports of bodies in the streets begin, and Adrian starts to believe that Jack is hiding a horrific secret, that he may be the mass murderer that has been terrorizing the city. Extremely well acted by the entire cast, brilliantly directed and scripted by Martin Donovan. A dramatically charged film with Hitchcockian elements that give it suspense and its wicked black humor. Highly Recommended.
Danny Rovira
Super Reviewer
½
odd but with excellent performances by two fine actors.
Apartment Zero Quotes
There are no approved quotes yet for this movie.