L' Appartement (The Apartment)
(1996)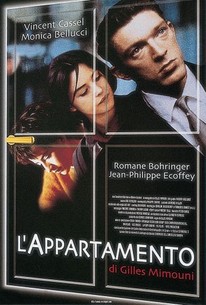 AUDIENCE SCORE
Critic Consensus: No consensus yet.
L' Appartement (The Apartment) Photos
Movie Info
In this French drama, a romantically-obsessed young corporate conservative leaves his successful new world behind to search for his elusive lost love. After lying to his girlfriend and enlisting the help of a friend, Max follows a bizarre trail of clues on a crazy quest to find his old heartthrob.
Critic Reviews for L' Appartement (The Apartment)
Audience Reviews for L' Appartement (The Apartment)
½
A successful executive overhears a phone conversation hinting at adultery and murder, and convinced that his ex-lover is involved, attempts to track her down to discover the truth about her sudden disappearance from his life. Echoing the likes of Suspicion and Vertigo, L' Appartement is very Hitchcockian in flavour, adding some very French sensuality and emotional turmoil to the mix. The story relies on the misdirection of both the protagonist and the audience by planting seeds of doubt that, once the truth is cleverly revealed by exposing the other side of the story from the point of view of another character, show that all of the previous events have been completely misinterpreted (unless you are VERY clever!). A young Vincent Cassel makes for a believable central character, constantly wrong-footed and perplexed at these events that seem to be manipulated by some unknown force and its very easy to understand his adoration for a Monica Belucci who has never been more beautiful or appealing. In this day and age where twists are ten a penny, L' Appartement's offbeat approach succeeds in keeping you guessing right until the end and nicely blends intrigue and romance in a way that I suspect would appeal to both genders equally.
½
Despite the French/Spanish audio language barrier substituted for English subtitles, this slow movie just out of curiosity alone will have you fixed in front of the screen until the final take. Totally out of this world awesome twists of a man (Victor Cassell) almost ready to tie the knot until he inadvertently runs into an old love flame (Monica Bellucci). This continuous romp in search of her throws in characters into the constantly twisting storyline that never lets you down. The final scene in this movie will have you wondering in the end...whether he will ever find her or will he walk down the matrimonial aisle...and with whom? Please see this if you definitely want for your brain to be turned out!! :-)
Fascade Fiveoneeight
Super Reviewer
A brilliant French film that dazzles by its complexity. Given the intrinsic similarities between certain characters, it can be hard to keep up, especially in French, but it's not too difficult. It's complicated enough to really engage the audience but not difficult enough to get you too lost. Brilliant acting, Cassel should be far more admired then he is.
Morgan Griffith-David
Super Reviewer
L' Appartement (The Apartment) Quotes
There are no approved quotes yet for this movie.