Appetite
(1998)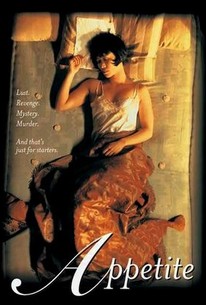 AUDIENCE SCORE
Critic Consensus: No consensus yet.
Movie Info
George Milton directed and co-wrote this quirky and riveting British thriller set in a crumbling old hotel run by a suspicious-looking manager named Jay (Trevor Eve, who played Harker in the 1979 Dracula). A group of strangers, gathered by an obnoxious young sailor (Christien Anholt) to celebrate his birthday, plays cards to determine which of them will spend the night in Room 207. The room is reputed to be haunted and a place where one "dreams the dreams of the ones who slept before you." Susie (Yse Marguerite Tran), an Asian woman who came to the hotel ostensibly to meet "someone special" is first, witnessing an appalling scene combining apparent oral sex and childbirth. She was dreaming the same dream the manager had when he slept there last. As the days and nights progress, more of the guests' dark secrets begin to come to light, leading them all to know far too much about each other's personal lives. One is there to avenge his dead son; another is seeking the birth-mother who rejected her; another is a suicidal former centerfold. There's robbery, drug abuse, perverse sexual behavior, and it's all somehow tied in to the hotel's creepy chef (George Lentz) and his dull-witted assistant (Detlef Bothe), leading inevitably to murder. Ute Lemper stands out as the mysterious Greta, Milton's direction is assured, and the film's look and feel often bring to mind a self-contained variant on Twin Peaks at its best. George Harris and Edward Hardwicke co-star. ~ Robert Firsching, Rovi
Critic Reviews for Appetite
There are no critic reviews yet for Appetite. Keep checking Rotten Tomatoes for updates!
Audience Reviews for Appetite
½
A very interesting and well acted film, to spite the fact that it feels a little slow and convoluted. I was expecting more of a horror film based on what I had read about it, but it really is more psychological thriller then a horror film. I t did keep my interest, I only wish I could say that the "pay-off" was worthy of the potential that is here.
Appetite Quotes
There are no approved quotes yet for this movie.