Applause
(1929)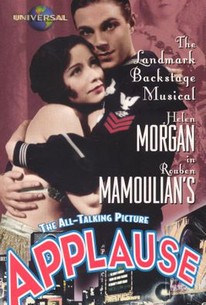 Movie Info
Early talkie in which an over-the-hill burlesque singer tries to shelter her convent-raised daughter from the harsh realities of her life. Film debut of director Rouben Mamoulian, who brought tremendous invention to his use of the camera as well as an innovative approach to sound.
Critic Reviews for Applause
Audience Reviews for Applause
In "Applause," Thea(Paprika Steen) is just out of rehab and acting in a production of 'Who's Afraid of Virginia Woolf?' Otherwise, she is trying to get her life back together, with her ex-husband Christian(Michael Falch) having already re-married to Maiken(Sara-Marie Maltha), a psychologist. That becomes increasingly important for Thea, especially as it regards potential custody of her two young sons. While "Applause" has its strengths in being a character study, it is often just as obvious, which is best exemplified in its choice of a play within the movie.(Admittedly, 'Who's Afraid of Virginia Woolf?' does sound better in Danish than in English.) Plus, Paprika Steen's lead performance is more showy than powerful as a character whose issues may extend beyond her addictions.
½
The actors are very good, and the story is touching, but it's a predictable and overused plot. So, it's a good movie, but it could have done something to make it stand out more and make it different.
Applause Quotes
There are no approved quotes yet for this movie.