The Apple Dumpling Gang
(1975)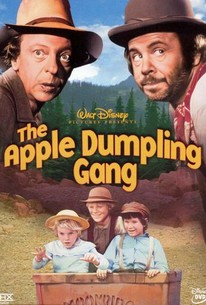 The Apple Dumpling Gang Photos
Movie Info
The Apple Dumpling Gang stars Bill Bixby as Russell Donovan, a slick frontier gambler. In Runyon-esque fashion, he is compelled to look after three precocious oprhaned kids. He can't handle the responsibilities alone, so he agrees to an in-name-only marriage to hoydenish stagecoach driver, Magnolia Dusty Clydesdale (Susan Clark). Fortuitously, they discover that a mine belonging to the kids' late father is worth millions. This brings several disreputable characters into the storyline: bumbling "nice" bandits Theodore Ogelvie and Amos (Don Knotts and Tim Conway), and deadly "bad" bandits headed by Frank Stillwell (Slim Pickens). Based on a novel by Jack M. Bickham, The Apple Dumpling Gang was successful enough to spawn a sequel-not to mention several future screen teamings for Don Knotts and Tim Conway.
Critic Reviews for The Apple Dumpling Gang
Audience Reviews for The Apple Dumpling Gang
One of the best Disney movies of the decade. It's more of a family movie than just a kids movie. I especially loved Bixby in this movie, he's cute. This movie is fun, humourous, and exciting too, kids and adults will enjoy it.
½
good old school family fun
cute family entertainment
The Apple Dumpling Gang Quotes
| | |
| --- | --- |
| Theodore Ogelvie: | "Ya know why we're called the Apple Dumpling gang? Because I fart into my bedsheets and it smells like cinnamon" |
| Theodore Ogelvie: | Ya know why we're called the Apple Dumpling gang? Because I fart into my bedsheets and it smells like cinnamon. |