Aquaman
(2018)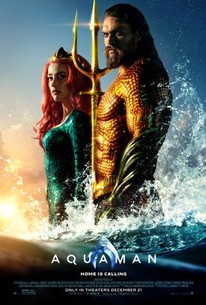 TOMATOMETER
AUDIENCE SCORE
Critic Consensus: Aquaman swims with its entertainingly ludicrous tide, offering up CGI superhero spectacle that delivers energetic action with an emphasis on good old-fashioned fun.
Movie Info
From Warner Bros. Pictures and director James Wan comes an action-packed adventure that spans the vast, visually breathtaking underwater world of the seven seas, "Aquaman," starring Jason Momoa in the title role. The film reveals the origin story of half-human, half-Atlantean Arthur Curry and takes him on the journey of his lifetime--one that will not only force him to face who he really is, but to discover if he is worthy of who he was born to be... a king.
News & Interviews for Aquaman
Critic Reviews for Aquaman
Audience Reviews for Aquaman
Sure, this is no smart or particularly clever film. But you gotta admire how it embraces its comic origins, tacky costumes with colorful oversized helmets, octopuses playing drums, Dolph Lundgren with pink hair, armored sea horses and all. Thankfully it doesn't take itself too seriously and has a pretty charismatic leading man who takes the film through a few silly scenes too. But you can't say you've seen most of this ever before, there are just so many locations, creatures, designs, concepts. It's no short movie by any means, but it's fun from beginning to end. Megalomania done right.
The latest entry into the beleaguered DC franchise has the feel as if DC were a broken down gambler in Reno down to their last chips and just decided: "Nevermind my previous losses. I'm bettin' it all!" That go-for-broke attitude powers this blindfolded dive into the deep end of the fantasy pool, and there's no end of fun for that dive, led by come-from-nowhere Jason Momoa, who sinks his teeth into this like a puppy at his first barbeque. And they steal from practically everything sci-fi that came before. After a moment I gave up trying to follow all of the steals, there's just that many of them: Blade Runner, The Matrix, The Wizard Of Oz, Metropolis, , Superman, etc., etc., etc., just to get a big, dopey fun movie! And what's wrong with that I ask you?
Kevin M. Williams
Super Reviewer
It's always a pleasure to see a studio recognize their flaws and do their best to correct the mistakes that caused them so much heartache in the past. With a very enjoyable Man of Steel setting a tone that would be completely overdone by the time Batman vs. Superman: Dawn of Justice hit theatres, it was only a matter of time before they decided to change it up. Suicide Squad was financially successful, but admittedly a step in the wrong direction. Justice League was a mess of a movie, but the saving grace of the franchise will always be known as Wonder Woman. Loved by critics and fans across the globe, DC and Warner Brothers decided to steer the ship in a new direction, taking a step into the past and creating origin stories for the characters we've only briefly seen. It worked with Wonder Woman, and I'm happy to say that I believe it's also working with Aquaman. Being very, very loosely tied to the previous films (almost not at all), Aquaman sees Arthur Curry go from an infant to a full-grown man. Being a half-breed from both land in our world and the underwater kingdom of Atlantis, he comes to the realization that he's the rightful heir to the throne. Challenged by his only brother who despises his existence, this creates tension amongst the people. With some very likable side characters and others who will more than likely have repercussions in future installments, there's a lot to like about this film in terms of character and story, which is what I was expecting to find lacking. Jason Momoa once again demands the audience's attention as he completely invests himself in this wacky character. His charisma is easily one of the highlights of this film and his many journeys with Amber Heard's Mera are a blast to watch. This is a film filled with tons of adventure and I was on the edge of my seat throughout a lot of it. It's visually stunning (for the most part) and I found that made it the biggest looking film of the franchise in terms of scope. Although it does borrow from pretty much every movie you've ever seen, it mixes in enough new content to differentiate itself from others. As it seems from my review, I had a blast watching Aquaman, but it's by no means a perfect movie, even by the standards set by this franchise. Patrick Wilson plays King Orm, Arthur's younger brother and although his motivations are clear, his portrayal is quite over-the-top. I personally took issue with this, as he's in quite a bit of the film. The disposable villains of this film actually have quite a bit of depth and backstory but are highly under-utilized. I felt like they were part of a set-up for something bigger in the future. Without ruining it, the scenes where these characters are used are very well-done, so it's a very minor flaw in my opinion. There are many small issues I have with the movie as a whole, but in retrospect, they're all nitpicks. In the end, Aquaman embraces the fact that the premise of an underwater city is ridiculous and runs with that from beginning to end. From giant sea battles to genuine heart-to-heart moments between characters that stood out to me, this is a film that has every I like about good blockbusters. While it's not one of the best superhero films I've ever seen, it's a joy to watch and easily in the discussion for as one of the best movies of this franchise. If you're a fan of comic-based films, I'd definitely suggest giving this one a shot.
Aquaman Quotes
There are no approved quotes yet for this movie.