Arahan (Arahan jangpung daejakjeon)
(2005)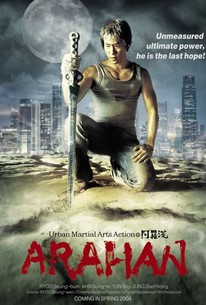 AUDIENCE SCORE
Critic Consensus: No consensus yet.
Arahan (Arahan jangpung daejakjeon) Photos
Movie Info
Writer/director Ryu Seung-wan (No Blood No Tears) directs his brother Ryu Seung-beom again in Arahan, marketed as "Urban Martial Arts Action." Actor Ryu plays Yu Sang-hwan, a bungling but honest patrolman. One day while chasing a purse-snatcher, he comes across a beautiful convenience store cashier and part-time martial arts master named Eun-jin (Yoon So-yi, making her feature debut), whom he finds about to deliver a devastating "palm blast" to the young thug he's just chased down. Eun-jin's aim is off, and Yu ends up knocked unconscious. She brings him back home to the temple of the "Seven Masters," a group of five cranky ch'i masters led by her father, Ja-un (Ahn Sung-Ki from Nowhere to Hide and Slimido). Ja-un quickly recognizes Yu's amazing untapped potential. Yu thinks the five old-timers are a bunch of kooks, but he's attracted to Eun-jin, and after he gets beaten up by some low-level gangsters, he returns to the temple, determined to learn how to do a "palm blast," so he can fight back. Ja-un patiently tries to teach him the ways of ch'i, but Yu is not the most attentive pupil. He wants to learn powerful fighting techniques, and seems more interested in gawking at Eun-jin than in the philosophical and spiritual underpinnings of the Seven Masters' teachings. But push comes to shove when a former Master, Heug-un (fight choreographer Jung Doo-hong), who betrayed the cause returns from centuries underground determined to seize the ultimate power and rule the world. Ja-un believes that the seemingly hopeless Yu is the only hope for humankind. Arahan was shown at the 2005 New York Asian Film Festival, presented by Subway Cinema. ~ Josh Ralske, Rovi
Critic Reviews for Arahan (Arahan jangpung daejakjeon)
There are no critic reviews yet for Arahan (Arahan jangpung daejakjeon). Keep checking Rotten Tomatoes for updates!
Audience Reviews for Arahan (Arahan jangpung daejakjeon)
½
Fun Korean martial arts comicbook spiel
Marcus Woolcott
Super Reviewer
½
Not a bad flick right here, the fight scenes are solidly choreographed but they're really nothing to write home about. The story isn't particularly interesting to me. I wouldn't say it's a mess as it's fairly simple to follow. Seven Masters protect a key that, if used by the wrong person, can bring chaos and suffering to the world. The villain of the movie, who is far more powerful than any of the seven masters, wants this key to ensure that humanity suffers again for what was done to his village thousands of years ago. See, fairly simple. Point is, the way this story is told isn't exactly intriguing or that interesting to watch, it really is kind of corny. Granted, I know martial arts movies aren't known for their great storytelling, but this story is still very corny and fairly convoluted. As mentioned the action scenes are quite good. But are they good enough to overcome weaknesses in the story department? Not even close. The action is wire-heavy. So if you don't like Crouching Tiger, even if this wasn't even close to the first movie to make use of wires, action then this movie is definitely not for you. Problem is, while the fight scenes were solid, none of them truly felt outstanding enough to give the film that extra push. There's never a moment in the fight sequences were you go 'oh shit, that was cool' and, sometimes, that's a very important factor in making these types of film memorable. The Raid, an incredible martial arts film, had absolutely no story to speak of whatsoever. And what little there was was instantly forgettable. But because the action was absolutely incredible, beautifully choreographed and shot, it stood out above the pack. This movie doesn't have any real memorable fight scenes worth talking about. But they're all solid, not shitting on the scenes themselves. Maybe I've just been spoiled and I expect more. The movie also has some decent laughs but, again, they're not enough to make the movie better than it is. I thought the ending was pretty funny and probably the highlight of the film as far as comedy goes, so that tells you how great the comedy is. It all just adds up to an average movie, at best. At least there wasn't any unnecessary melodrama. I'm always happy when there's no tragic goings-on in a Korean comedy.
Jesse Ortega
Super Reviewer
½
1 part comedy, 1 part action, Seung-wan Ryoo's Arahan is a bundle of amusement.
After an opening sequence with dialogue that acts as the hook and some stellar opening credits, Arahan is off and running. The first half consistently uses humor to help liven up the storytelling before it turns into an action fest for the finale.
The action is fantastic and the CG effects are more than suitable for this picture. What really stands out is the choreography, thanks to Doo-hong jung, which comes complete with fists, swords, and some other special powers thrown in the mix. The final fight is actually quite long and this contributes to the film's 1 hour 50 minute run time.
Seung-beom Ryoo delivers a joyous performance with his facial expressions and line delivery. The lovely So-yi Yoon is also a delight to watch. The rest of the supporting cast completes the circle of fine acting.
At the end of the night, Arahan is one successful action comedy out of Korea. Check it out if time allows.
Arahan (Arahan jangpung daejakjeon) Quotes
There are no approved quotes yet for this movie.