Ararat
(2002)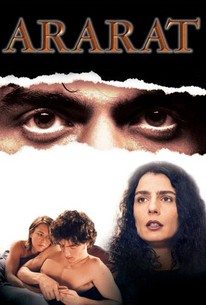 Movie Info
A mother who only wants peace, a young woman who wants nothing but retribution, and a young man whose journey to uncover his roots is jeopardizing his future are estranged members of a contemporary Armenian family who face Turkey's denial of their catastrophic past.
Critic Reviews for Ararat
Audience Reviews for Ararat
Atom Egoyan is probably my fav filmmaker in cinema today. He is a man who is a master of telling complex, web weaving stories. His film "Ararat" is an ambitious project that explains a bit about the Armenian genocide of 1915 but some how loses it's focus due to the complex narrative. This is a very confusing film and yet it is very well made. The plot is told in trademark Egoyan fashion (non linear, damaged, alienated charcters) but the flaw is Egoyan's handling of the material. I was hoping that Egoyan would have made the film more emotional and heartbreaking like "Schindler's List" and just tell the story of the genocide, the Armenians sufferings and pain rather then adding different layers, different stories, and different characters to confuse movie goers. Sure that style has worked in previous Egoyan pictures but not in this one. Even the handling of the massacre lacks an emotional punch. Truth be told I didn't really care about the genocide of 1915 or it's recents events. What's worst, it's created in this film within a film making it all the more confusing. With that being said I guess what I admired about the picture was the performance from Elias Koteas who plays a homosexual character and is given a huge part to play in a movie about the genocide. Koteas character is seen very uncomfortable playing a racist, turkish villian (and well who wouldn't be?) but plays him nonetheless although he wonders if he was given the part for the right reasons or the wrong one? The film also deals with a filmmaker making a a picture about the 1915 massacre, a young adult who is trying to buy his way through customs but is accused of smuggling drugs by carrying them in film cans, a woman who is an expert on Arshile Gorky is haunted by her step daughter's debatable questions, and on and on and on. I guess I would still somewhat recommend the film since it is very well made and yet it is Egoyan's least accomplished works he has ever made. If only the film had some kinda resonance, "Ararat" would not only of find it's true audience, the picture could have been seen as a true work of art.
It would have been simple enough to make a straightforward film about the Armenian genocide (the first genocide of the 20th century and the original holocaust). What Atom Egoyan has done here is make a film that is permeated with a primal rage at the apathy and the ignorance about the genocide today. Even this was not enough for him, however, the film shows multiple points of view within the Armenian community (about what to do with what has happened) and the Turkish (about what, if anything, did happen) one as well. There are scenes of such heartbreaking, illusrative brilliance (the film-within-a-film reenactment of the genocide features U.S. actors in prominent roles, a U.S. volunteer hospital as the main setting, and the delivery of the KEY line "Go to the embassy...tell them AMERICAN LIVES...are in danger" which perfectly illustrates Egoyan's anger not just at what happened, but how little it has meant because of who it happened to), that pose such challenging questions ("Who, after all, speaks today of the annihilation of the Aemrnians?", a quote often attributed to Hitler, is used here in a particularly poignant scene between an Armenian gaffer and a Turkish actor, both working in the film-within-a-film) that the film's messy, uneven, disjointed structure can be forgiven. It is not a perfect film, definitely not a flawless one, but when faced with such passion, such rage and such talent it is impossible to end up with anything other than a work of art. This is the kind of film that can be discussed for hours and hours on end.
Ararat Quotes
There are no approved quotes yet for this movie.