Are You Scared
(2005)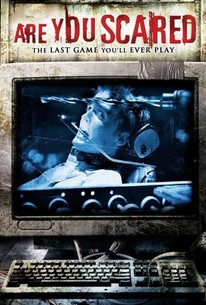 AUDIENCE SCORE
Critic Consensus: No consensus yet.
Movie Info
Six teens who didn't take life seriously are forced to participate a game in which death can come at any time in director Andy Hurst's tense horror thriller. Awakening from drug-induced stupors to find that they have been imprisoned by a sadistic psychopath, these six teenagers who are under close observations discover that they have become pawns in a particularly deadly game in which the only hope for survival is to play by the rules, and pray for your life.
Critic Reviews for Are You Scared
Audience Reviews for Are You Scared
Yeah...it did copy Saw. But I found it very entertaining to watch. I thought the traps in this movie were pretty clever and neat...and I also liked the story. The acting and setting weren't that bad either. I thought this was a great movie.
Jacob Palacio
Super Reviewer
I would love to punch in the face whoever was responsible for editing this film. The video editing was BY FAR the worst I have ever seen. I would've loved to edit it myself. Fading in/out to black is okay to use as a transition. One scene fades to black, then another scene slowly fades in. It's a rather nice touch when done properly. However, this movie used it for all of the wrong purposes. In one scene, they tried to use it to create suspense. It may have worked, if they hadn't overused it. In the scene, someone was about to die, so they focused in on one of the actor's facial expressions, then faded to black. Then they focused in on another actor's face and faded to black. They did this repeatedly. It would've been okay, except they used the effect 30 times, thus destroying any suspense that might have been created. It was really frustrating, seeing the same effect over and over and over again. They used it at least 50 times throughout the movie. The lighting was also really off. In some scenes, I couldn't see anything. I got lost and didn't understand what was happening because...well...I couldn't see! At least adjust the lighting so the audience can see SOMETHING happen, otherwise it's a boring piece of shit. Scary sounds mean nothing to me, when I'm staring at a pitch black screen. The slow motion effect was also not used properly at all! If you can't use effects right, then don't use them!! In one scene, one of the characters is standing outside of the door listening to another character scream from inside the room. As the character is standing outside the door, she starts crying and screaming (but they block the sound out so you can't hear the screaming which is stupid IMO). So what does this fabulous movie do? It focuses on the girl screaming and slow mos the shit out of her face. It shows her crying/screaming in slow motion......why? I have no idea. Why does it deserve to be slow moed? It doesn't add any emotion to the film. I surely didn't feel anything while watching it. The silent screams are also another biggie. They silence screams so many times. I guess for dramatic effect? I don't know. It was stupid, but I appreciate the silence. The character's voices were so annoying, I needed that little break. The pacing was also really off. The movie kind of just....started. It's almost like the movie already expected the audience to know what was going on....when actually we had no clue. No background information was given on any of the characters, and I'm pretty sure some of the character's names weren't even established in the film. The people in the film were complete strangers to each other, and they barely got acquainted......yet they knew each other by name, and when someone screamed they knew exactly who that person was (even though they couldn't see them). Like really? The story line was probably the biggest thing. It was like watching a cheap Saw knock-off. There were a bunch of plot holes too. I can't even list them all. The plot was filled with irrelevant material. It was just awful.
It's a straight to DVD mish-mash of Saw and all the other gorno reality related horror out there. Some of the traps are pleasantly original and the deaths are gruesomely realistic, especially a half decapitation done in a single shot. The acting isn't as bad as some other cheap horrors but it starts getting concerned with "twists" which I'm not too sure make a lot of sense. Worth watching if it comes on TV but I wouldn't pay for the privilege.
Luke Baldock
Super Reviewer
Are You Scared Quotes
There are no approved quotes yet for this movie.