Area 407
(2012)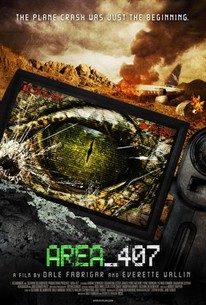 AUDIENCE SCORE
Critic Consensus: No consensus yet.
Movie Info
Tape 407, features lost footage too real for reality and too disturbing for fiction. The film opens with two teenagers flying from New York to Los Angeles on New Years Eve. Their nightmare begins when their plane hits extreme turbulence mid-flight. The relentless weather attack causes panic and terror amongst the passengers until the plane ultimately crashes in a remote government-testing area. The handful of survivors from the crash, bloody and disoriented, are then insistently pursued in the darkness by unknown predators that, unbeknownst to them, are part of the government's top-secret Mesa Experiment. The film will take moviegoers on a whirlwind ride, with a twist ending that will leave you breathless, shocked, and terrified. -- (C) Official Site
Critic Reviews for Area 407
All Critics (3) | Top Critics (1) | Fresh (0) | Rotten (3) | DVD (1)
Directors Dale Fabrigar and Everette Wallin indulge in all the shouting, shaking, and static that's par for the course in thrillers of this ilk, half-capturing shrill arguments between one-note characters before they flee into the night.

Audience Reviews for Area 407
This was the first film of 2016 that had me hit that "I can't do it" point, and had to turn off. I have a pretty good tolerance for bad movies, being a horror-pundit will do that to a man, but Tape 407 was unbearable.
½
Before I start I must point out that I am clearly in the minority where this film is concerned. Everybody seems to be tearing it apart for the reasons why I love it. This found footage effort sees a plane crash and the survivors stalked by some unseen predator. The first 20 minutes are fantastic. It really does seem like real footage thanks to all of the characters. Nobody seems like a traditional character meant to take part in a film. The young girl with the camera is awfully polite, saying "Hi" to all aboard and taking a genuine interest in them. This makes her likable from the outset. The passengers and cabin crew are also well played out and know how to deliver dialogue. I'm pretty sure it was improv as it sounded very naturalistic. It builds tension well and captures the claustrophobia and terror many feel on a plane, and that's before it all goes wrong. After the plane crash the survivors band together and are soon picked off one by one. As a found footage movie it is excellent because it makes its premise work. Many will complain about the constant shouting, talking over each other, unable to hear what some are saying, and the painful screaming, but that all seemed real to me. The characters do get frustrated but they are also not one note caricatures. Even the annoying guy explains his panic when we discover he is recovering from a heart attack and doesn't have his meds. I loved the acting in this film and think it really brought it to life. The panic and confusion of the characters after the crash seemed very real. I did feel as though it went on for a bit too long and can easily see how people would tire of the film and the final shot was such a laugh out loud moment. Completely unnecessary.
Luke Baldock
Super Reviewer
* out of **** I'll never understand what IFC Films sees in half the films they help distribute; especially the films that are a part of their IFC Midnight sub-chain, which specializes mostly in horror movies or movies of a darker nature in general. Once in a while, they'll help get a pretty good or even great genre flick out there but that feels like merely once in a blue moon. Most of the time, they're either assisting Tom Six in spreading his cinematic hate-letters (and I don't even mind the "Human Centipede" pictures thus far) or releasing stinking piles of pure dog-shit like "Area 407"; a dull exercise in found footage that the makers and the distributers would probably like to believe is way more artsy and entertaining than it actually is. As it opens, we're introduced to a pair of sisters heading to their home of sunny LA, one of them an annoying brat who likes to play around with her sister's handheld camcorder. Once they've boarded the plane, the annoying sister starts filming everything and every passenger; including some poor middle-aged bald guy who both sisters believe is an alcoholic (so, yeah, not so nice to laugh at the guy's problems). When they're just about to reach their destination, the plane hits extreme turbulence and crashes in the middle of nowhere; certainly not Los Angeles. We assume that a lot of people die, but a lot of the crew also survives; including one of the flight attendants. Then we hear the combined sounds of human cries for help and animalistic roaring in the distance. For the longest time, these stupid characters won't stop bickering with one another. It's not too long before we learn that poor middle-aged bald guy is not very "poor" at all, at least not in the sense that I originally thought he might be. His attitude is certainly of no more or less that quality, I can tell you that. The group has to move whilst staying together in order to find shelter; since something is stalking them nearby in the darkness, and that something happens to be some sort of dinosaur (a raptor perhaps). Well, you can't say they've done everything with the found footage genre! The film offers up as little characterization as possible, and that is where it is most dreadful. We don't care for these people in spite of their dilemma, and even though the first fifteen minutes of the film are decent if not in an empty, soulless sort of way; the whole thing is mostly kind of joyless. I've seen the good, the bad, and the ugly of found footage; and you can guess where this one belongs. The film doesn't even make good use of its villain; instead resorting to techniques that we've seen so many times before and utilized much better. Plus, the dino effects are bad, so...yeah. And the explanation for their presence (the plane crashed in the titular area 407, kind of like Area 51), while not illogical, is even more disappointing. I find it insulting that just about any old idiot can buy a cheap camera and make a cheap movie. I miss the days of "Cannibal Holocaust" and "The Blair Witch Project" where the found footage was not a gimmick but a style; and an innovative one at that. "Area 407" has zero suspense, zero characterization, and zero entertainment value. It's boring, dumb, and genuinely unimaginative. Who thought it was a good idea to make this thing let alone give it a theatrical release? Why must the filmmakers lacking in all talent get noticed while the ones with actual skill sit in the corner, with their works unreleased? You could literally go to Youtube and find a found footage film or short film (like the "Marble Hornets" webseries) more worthy of attention and praise than this piece of crap. Avoid at all costs, for the taglines lie. "Area 407" is too lame for reality and too disturbingly bad for fiction.
Ryan Marshall
Super Reviewer
Area 407 Quotes
| | |
| --- | --- |
| Trish: | I see something! |
| Jimmy: | Oh yes! Oh yes! |
| | |
| --- | --- |
| Charlie: | We're sitting ducks if we stay here! |
| | |
| --- | --- |
| Laura: | Just shut the camera down. Shut it down! |
| | |
| --- | --- |
| Trish: | New York was a blast, but now it's time to head home and start doing homework again. |