Arizona Dream
(1993)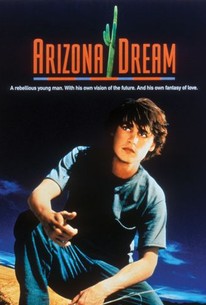 TOMATOMETER
AUDIENCE SCORE
Critic Consensus: Inscrutably strange, yet undeniably compelling, Arizona Dream is anchored by magnetic performances from Johnny Depp and Faye Dunaway.
Movie Info
Director Emir Kusturica and screenwriter David Atkins crafted this absurdist comedy in which Johnny Depp plays Axel Blackmer, who lives in New York State and is obsessed with fish. He tags fish and monitors their habits for a living, but his greatest curiosity is when and how they dream. Axel's uncle, Leo Sweetie (Jerry Lewis) would prefer Axel take over the family business, a Cadillac dealership in Tucson, Arizona; against his better judgment, Axel drives from New York to Arizona to check out the lot and attend Leo's wedding to Millie (Paulina Porizkova), a woman who is hoping that marriage will keep her from crying all the time. While watching the Cadillacs, Leo meets Elaine Stalker (Faye Dunaway), the sexy widow of a wealthy mine owner, and the two strike up a romance, while Elaine's daughter Grace (Lili Taylor) wanders through her mother's home playing "Besame Mucho" on the accordion to her pet turtles. Needless to say, Warner Bros, the film's United States distributor, didn't figure this was a sure bet for box-office success, and they trimmed Arizona Dream of 22 minutes before putting it into limited release and eventually dumping it onto home video without opening it in most major cities. Kusturica's original 142-minute cut was released in Europe (where it did respectable if not ground-shaking business) and to a few art houses in America; the shortened 120-minute version is available on home video.
Critic Reviews for Arizona Dream
Audience Reviews for Arizona Dream
½
A young New Yorker is kidnapped by his brother to attend his uncle's wedding, only to fall for an eccentric older woman obsessed with the idea of flight. Arizona Dream is perfectly titled; this film is exactly as much fun as somebody describing one of their dreams to you. For two and a quarter hours. The whole thing is just a load of "wacky" characters doing "crazy" things and talking about Eskimos, turtles and suicide. All of them are as irritating as hell and the dialogue (particularly the painful narration by Depp) is excruciatingly pretentious. I literally couldn't care less about any of them and the only reason I made it to the end of the film is because the DVD cover lied, saying it was half an hour shorter than it was. Very typical of the post Gen X bullshit touted by self-proclaimed "arthouse" auteurs in the 90s, the biggest tragedy of this pointless load of self-satisfied yet irrelevant and vacuous drivel is the fact that there are now two wasted hours of my life I will never get back. A film only someone Johnny Depp has an active restraining order against could possibly love.
Axel: But what's the point of breathing if somebody already tells you the difference between an apple and a bicycle? If I bite a bicycle and ride an apple, then I'll know the difference. Arizona Dream is much like a dream as it jumps from scene to scene and we don't know what happened in between. It is a very odd movie; with increasingly weird scenes and sights appearing. With all that being said it is still very watchable and I found myself watching with interest to what would occur next. Johnny Depp stars in a fairly early role and that was the main reason I watched the movie. It's very original, but I felt that story never really came together as good as it could have.
Melvin White
Super Reviewer
½
Johnny Depp plays a fish-tagger who reluctantly moves to Arizona to help uncle Jerry Lewis run his car dealership and becomes romantically entangled with emotionally unstable older fox Faye Dunaway and suicidal stepdaughter Lilli Taylor. A meandering, whimsically surreal comedy with an indie/Euro sensibility that wants to say something important about Life but never really gets around to it; fortunately, there are some standout individual scenes from the top-notch cast, including a running NORTH BY NORTHWEST gag. Vincent Gallo steals his scenes as Depp's would-be actor buddy.
Arizona Dream Quotes
| | |
| --- | --- |
| Axel Blackmar: | Fish know everything and don't need to think. |
| | |
| --- | --- |
| Axel Blackmar: | But what's the point of breathing if somebody already tells you the difference between an apple and a bicycle? If I bite a bicycle and ride an apple, then I'll know the difference. |