Armed Response
(2017)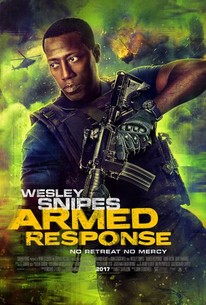 Movie Info
A team of special forces soldiers approach the designer of a high-tech military compound to investigate the disappearance of another team guarding the facility. The compound, known professionally as a Temple, is an artificial intelligence powered facility designed for interrogating high level prisoners. Upon entering the Temple, the soldiers quickly find the earlier team horrifically slaughtered but no evidence as to who is responsible. Almost immediately, the crew begins to experience strange and horrific supernatural phenomena as they attempt to uncover who killed the previous team. Soon enough, they find a lone survivor, a dangerous terrorist who may hold the key to who killed the soldiers. But as the story goes on, we'll learn that there's more to it than we've been told and a dark secret the soldiers share may hold the key to surviving The Temple.
Critic Reviews for Armed Response
Audience Reviews for Armed Response
½
I'm always pleasantly surprised when a movie I was expecting to be a different genre takes a decidedly Horror turn. This is where the pleasant surprises end for Armed Response. You know what I hate? When the shrill elongated beep that's supposed to cause the characters immense pain, actually causes pain to the audience. Well, Armed Response has that in spades. Seriously, have we not yet reached a place in filmmaking where we can indicate an intense noise other than that some bloody headache-inducing, ear-splitting 'EEEEEEEEEEEEE' they all use? Makes me want to turn off the movie immediately. Well, with Armed Response, I probably would have been better served if I had done just that. What a ridiculous 93 minutes that was.
Armed Response Quotes
There are no approved quotes yet for this movie.